Shreya Goel, '18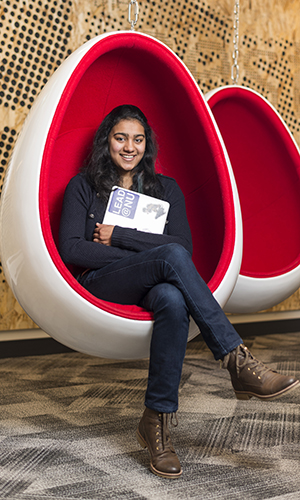 Hometown
Delhi, India
Concentrations
Economics and Mathematical Methods in the Social Science majors
Computer Science minor
Consulting for the community
Shreya volunteers with campusCatalyst, a student group that partners students with nonprofits to provide pro-bono consulting. Starting as a community analyst and working her way up to the executive board, Shreya has helped a variety of large and small organizations troubleshoot business issues. "It is great to see the impact our work can have," says Shreya.
Applied mathematics
Knowing that she wanted to apply mathematics to the social sciences made Northwestern stand out to Shreya. She chose the school for the College's Mathematical Methods in the Social Science program, which is one of its kind in the country. It became one of her majors.
"At every step there is an opportunity to push yourself. You can take advanced classes designed for undergraduates like in the MMSS program or the MENU program, and you can explore different fields with your distribution requirements. For instance, I have taken Russian literature, the philosophy of ethics, advanced linear algebra and computer programming all in one quarter."
Back to top