Alex Solivan
Alex Solivan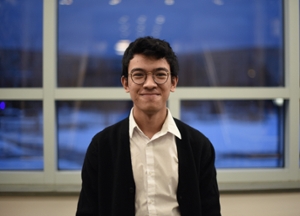 he/him
Class of 2023

Arch Programs
Bio&Chem EXCEL; Bridge 2; NU Bioscientist; Peer Mentoring
Major/Minor
Biological Sciences Major, Chemistry Minor
Why did you decide to participate in Arch?
In the spring of my senior year of high school shortly after getting into Northwestern, I received an email from Dean Lane Fenrich telling me about these pre-orientation programs for first-generation and/or underrepresented students at NU called Bio&ChemExcel and Bridge. I was, at the time, the only student from my high school in New York to ever attend Northwestern and didn't know anyone else coming to NU at that point so I decided to apply to try to meet some new people and get prepared for my freshman year. I'm really glad I did as Bio&ChemExcel was one of the best experiences of my college career. I owe a lot of my successes and current friendships to the program. My great experiences in the pre-orientation programs put together by Arch led me to staying with the community throughout my time at NU, eventually continuing on to NU Bioscientist my freshman year then Bridge 2 before eventually becoming a Peer Mentor as an upperclassmen.
What is one of your favorite memories from Arch?
One of my favorite memories from Arch was during Bio&ChemExcel, the counselors took us to the Segal Visitors Center to watch the fireworks on July 4th. It was only about a week into the program at that time but we as a group had gotten very close already and it was a great time. There also happened to be a news reporter there and one of the people in my cohort got interviewed for the news out of nowhere which was pretty funny.
What are your plans after graduation?
Get my PhD in Chemistry and eventually become a professor.
What is your favorite spot on campus?
Tech F-Wing 2nd Floor Atrium
Back to top