Vivica Lewis
Vivica Lewis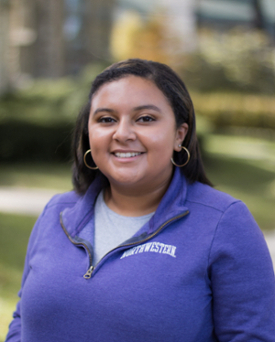 she/her
Class of 2023

Arch Programs
Bio&Chem EXCEL
Major/Minor
Sociology and Global Health Studies
Why did you decide to participate in Arch?
From the first email I received about the program, I was interested! I was excited for the opportunity to connect with other students from similar backgrounds and learn about campus life before the official start of the year.
What is one of your favorite memories from Arch?
I am extremely grateful for the friendships I made during Bio&Chem EXCEL that have shaped my college experience. Also, I appreciated the activities we'd go to in the city throughout the summer. I remember local friends teaching me how to use the L to get everywhere, eating at new, delicious restaurants, and outings like the Gold Cup 2019 at Soldier Field and shopping in the heart of the city. All of these helped Evanston and Chicago start feeling like home for me!
What are your plans after graduation?
I am attending Feinberg School of Medicine through the Accelerated Public Health Program to earn my Master of Public Health (MPH) degree! I love Northwestern, so it felt right to stay here and continue learning.
What is your favorite spot on campus?
My favorite spot is Norris because it's not too loud or too quiet, so it feels like the perfect place to get work done for me. I'll grab a green tea, find a spot with an outlet, and stay for hours doing readings or writing an essay. I like seeing all kinds of performances there as well or just chatting with friends.

Fun Facts About You
My middle name is only one letter–E!
Back to top