Richard W. Leopold Lecture
Anne Applebaum
Twilight of democracy
Thursday, October 8, 2020 | 1:00 PM CT
Livestream | Free and open to the public
Pulitzer Prize winning historian, journalist and commentator on geo-politics, Anne Applebaum examines the challenges and opportunities of global political and economic change through the lenses of world history and the contemporary political landscape.

Informed by her expertise in Europe and her years of international reporting, Applebaum shares perspectives on, and the far-reaching implications of, today's volatile world events. And as technology allows a new scale of media manipulation to authoritarian governments and changes the tenor of political discourse, she scrutinizes the misinformation, propaganda, and criminal exploitation that influence global affairs, as well.

In July 2020 Penguin published her new book Twilight of Democracy: The Seductive Lure of Authoritarianism – in this work, she outlines eloquently why elites in democracies around the world are turning toward nationalism and authoritarianism.
A short Q&A session will be held at the end of Ms. Applebaum's talk, moderated by Medill Professor and contributing writer for The New Yorker, Peter Slevin. 
About the Speaker 
Anne Applebaum
From Syrian refugees to Putin's disinformation narratives, from the EU and the European financial crises to responding to terrorism, from solutions to transition-government corruption to political populists' game-changing campaign language, Applebaum provides both background and up-to-the-minute insights that are vital to understanding the risks and opportunities of today's world political and economic climate.
Anne's Pulitzer Prize-winning Gulag: A History is about the Soviet concentration camps. Her book, Red Famine: Stalin's War on Ukraine, is the winner of her second Duff Cooper Prize and the 28th Lionel Gelber Prize 2018. In it, Anne proves what many suspected: Stalin set out to destroy the Ukrainian peasantry. Anne is the only author to win the Duff Cooper Prize twice. Her other books include Iron Curtain: The Crushing of Eastern Europe, 1944-1946, which won a Cundill Prize for Historical Literature, and Between East and West: Across the Borderlands of Europe. 
She is a Senior Fellow of International Affairs and Agora Fellow in Residence at the Johns Hopkins School of Advanced International Studies in Washington, DC.
Director of the Transitions Forum at the Legatum Institute from 2011-2015, an international think tank, Applebaum is the co-founder of the institute's Democracy Lab, an online partnership between the institute and Foreign Policy magazine. An adjunct fellow of the Center for European Policy Analysis, she is former Phillipe Roman Chair in History and International Affairs at the London School of Economics.
For many years, Applebaum wrote a biweekly foreign affairs column for The Washington Post which is syndicated internationally.  She is now a staff writer at The Atlantic. She is also a regular contributor to publications such as Foreign Affairs, the Guardian, Slate magazine, The New Republic, Die Welt, The Spectator, The Independent, Cicero, Gazeta Wyborcza and The New York Review of Books. She was formerly a member of The Washington Post's editorial board; foreign and deputy editor of The Spectator magazine; and political editor of The Evening Standard. From 1988 – 1991 she covered the collapse of communism as Warsaw correspondent for the Economist.

Anne attended Yale University and was a Marshall Scholar at the London School of Economics and St. Antony's College, Oxford.
Past Leopold Lecturers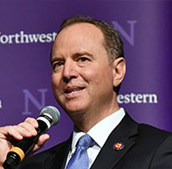 October 3, 2019 - U.S. Rep. Adam Schiff delivers Leopold Lecture, "The Threat to Liberal Democracy at Home and Abroad."

Watch Adam Schiff's entire talk at Northwestern.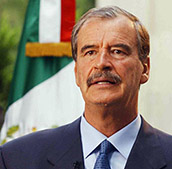 October 16, 2018 - Former president of Mexico Vicente Fox delivers Leopold Lecture, "Perspectives and Challenges in U.S.-Mexico Relationships"

October 24, 2017 -David Cole, national legal director for the American Civil Liberties Union delivers Leopold Lecture, "We'll See You in Court: The Defense of Liberty in the Era of Trump" 
October 12, 2016 - Jill Lepore, David Woods Kemper '41 Professor of American History at Harvard University and a staff writer at The New Yorker, delivers Leopold Lecture, "The Question of History and the Answer of History."

Richard W. Leopold Lecture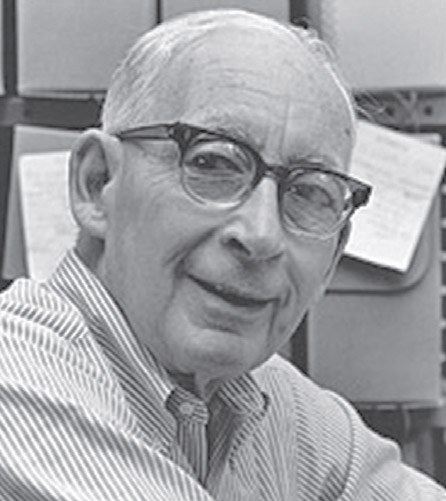 The Leopold Lecture series has brought a variety of distinguished speakers to the Northwestern campus, including U.S. Senators Russ Feingold and Richard Lugar, presidential nominee George McGovern and former Mexico President Vicente Fox.
Professor Leopold's undergraduate students established the Richard W. Leopold Lectureship within the Weinberg College of Arts and Sciences in 1990 to honor the late eminent diplomatic historian and dedicated educator. For more than 40 years, most of them at Northwestern, Leopold distinguished himself as an attentive teacher.
Generations of undergraduate students, many of whom enjoy successful careers as educators, writers, lawyers and public officials, remember Leopold's scholarship, teaching and friendship. The lectureship honors Leopold's contribution to the University and recognizes his enduring influence on the lives of his students.
---
Richard W. Leopold, William Smith Mason Professor of History Emeritus, enjoyed a distinguished career as a scholar and teacher. Graduating from Princeton University in 1933, he received his doctorate in 1938 from Harvard University. After 11 years on the Harvard faculty and as a naval officer in Washington, D.C., he came to Northwestern University in 1948.
In subsequent years, he became a member of the Institute for Advanced Study at Princeton and a Northwestern University President's Fellow. In 1976, he received a distinguished teaching award in the College, a National Endowment for the Humanities Fellowship, and was elected president of the Organization of American Historians. Leopold wrote The Growth of American Foreign Policy: A History; Elihu Root and the Conservative Tradition, and Robert Dale Owen: A Biography, as well as many articles and reviews. His work has been recognized by the Organization of American Historians, which established the bi-annual Richard W. Leopold Prize for a distinguished book by a government historian and in 1992 gave Leopold its Distinguished Service Award. In addition to his work within the University, Leopold served on numerous government committees concerned with preserving historical data. Professor Leopold passed away in Evanston in 2006 at age 94.
Back to top