Sarah Opoku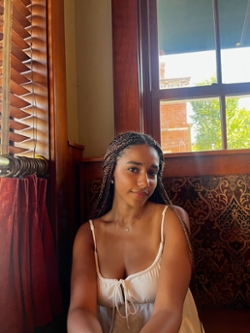 Sarah Opoku
Class of 2026
she/her

Arch Programs
Bio&ChemEXCEL 
Major/Minor
Planning to major in astrochemistry and minor in French
Why did you decide to participate in Arch?
I decided to participate in Arch because I went to a high school that only offered a couple AP courses and was feeling pretty unprepared for my first year at Northwestern. The Bio&Chem Excel Program seemed like it would offer just what I would need to feel a bit more comfortable on my first day of classes so I decided to apply.
What is one of your favorite memories from Arch?
One of my favorite memories from Arch would have to be walking with a bunch of the students to 7/11 one of the nights to get slushees and snacks and then walking back to the dorm cramming in the basement lounge and watching the Surf's Up animated movie together.
Why did you choose Northwestern?
I chose Northwestern because I studied theater and dance in high school but knew I wanted to go into science in college. During my tours at Northwestern, they really preached study in many opposing subjects so I felt drawn to that ability to explore any and all of my interests.
What are your plans after graduation?
At the moment I am uncertain, but my overall educational goal is to work towards my doctorate.

What is your favorite spot on campus?
Definitely the atriums in Tech!

What is your favorite class you've taken at Northwestern?
I took an Art Theory seminar about the French Revolution that I absolutely adored. We even got to go to the Chicago Art Institute as a class.

A fun fact about me is...
I really like butterflies!
Back to top