Zachary Araujo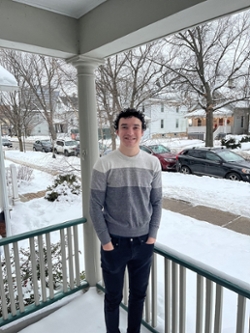 Zachary Araujo
he/him
Class of 2022

Arch Programs
Bio&ChemEXCEL, Bridge 2, and NU Bioscientist
Major
Neuroscience and Global Health
Why did you decide to participate in Arch?
I decided to join Arch to get a better understanding of what I wanted to do here at Northwestern and to get to know people who had similar goals and interests.
What is one of your favorite memories from Arch?
One of my favorite memories from Arch was during Bridge 2, when we would have finished a quiz or test and would all hang out, explore campus and just enjoy each other's company. The friends I made that summer are still some of the people I am closest with.
Why did you choose Northwestern?
I chose Northwestern for the beautiful campus and for the experiences other people wrote about their time here.
What are your plans after graduation?
My current plans are to take a gap year or two and then to move on to medical school, but it's a big world so who knows what will happen.
What is your favorite spot on campus?
My favorite spot on campus is SPAC (Henry Crown Sports Pavilion). I love to exercise and I love the people I've met there.
What is your favorite class you have taken at Northwestern?
Neuroscience of Brain Disorders and Disabilities with Professor Valerie Kilman
Fun/Interesting Fact About You
I like to try every restaurant's classic burger and then decide which place has my favorite. For Evanston, so far my favorite was Five and Dime's.
Any advice for other students?
Take your time at Northwestern. It is both the hardest and best thing I have ever done.
Back to top