Gustavo Berrizbeitia, '17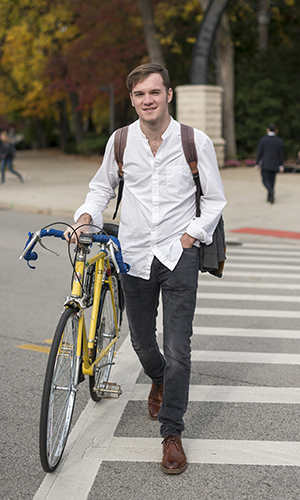 Hometown
Concord, Massachusetts
Concentrations
Political Science and Philosophy majors

Critical Theory minor
Researcher 
Most of Gustavo's time is spent engaged in research. He spent his summer conducting research on a racially discriminatory voter ID statute in Texas and recently presented a paper on the Congressional response to wealthy and corporate lobbies. Gustavo is currently writing two undergraduate theses in political science and philosophy. Even when he is not in class with them, Gustavo says his past professors are willing to be a sounding board for his research.
Theater-lover
Gustavo calls theater a "great extracurricular love affair." As a board member of the theater group, Lovers & Madmen, he helps selects shows for the season, finds producers and directors, and fundraises for shows. Gustavo may be biased, but he calls the Shakespeare, Greek and classic works they produce "the best undergraduate theater you'll see in the country."
"In my academic life, I have done a lot of research on democracy, studying voter ID laws in Texas and doing theoretical work on democracy and racial difference. And then in my free time I get to help build sets for a Shakespeare play! And while they might seem separate, I think a lot of the creative work that goes into building a set, for example, underpins the analysis necessary for good research – and for that reason, Northwestern does a great job of fostering highly multidisciplinary creativity."
Back to top