Conversations with the Dean
Featuring Dean Adrian Randolph
Dean Adrian Randolph shares insights from his fall quarter class, Introduction to European Art.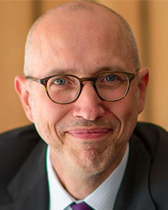 Adrian Randolph is dean of the Judd A. and Marjorie Weinberg College of Arts and Sciences and Professor of Art History. Prior to joining Northwestern, Randolph served as the associate dean of the faculty for the Arts and Humanities at Dartmouth College. He also served as chair of the Department of Art History at Dartmouth, as well as director of the college's Leslie Center for the Humanities. 
Watch more "Conversations with the Dean"
Back to top