The Lamassu, Resurrected
Professor Michael Rakowitz's recreation of the historic Iraqi sculpture will grace London's Trafalgar Square

Thanks to Michael Rakowitz, the Lamassu will rise again.

The Department of Art Theory and Practice professor has been commissioned to recreate the Lamassu — a winged bull and protective deity that stood in Nineveh, Iraq, from 700 BCE until it was destroyed by the Islamic State in 2015 — at the Fourth Plinth in London's famed Trafalgar Square. The Fourth Plinth is one of the world's most visible and thought-driving public art platforms.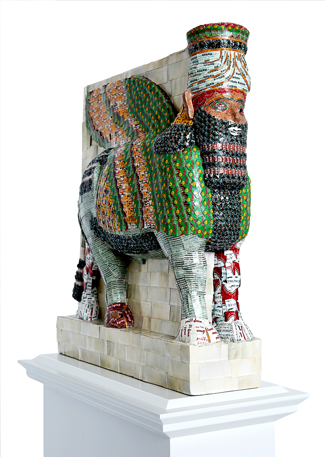 "It is a complete honor to win the Fourth Plinth commission and one made more urgent by worsening immigration and refugee situations in the Middle East," Rakowitz says. "For London to want this sculpture at this time, allowing it to become a surrogate for those human lives that cannot be reconstructed and are still searching for sanctuary, heartens me and gives me hope."
Rakowitz's sculpture, which will debut in March 2018 and remain until 2020, will be the 12th work to appear on the Fourth Plinth since the public art project's 1998 launch. The 14-foot sculpture will be constructed of 3,000 to 4,000 empty metal Iraqi date-syrup cans, recognizing a once-renowned Iraqi industry that has since been decimated by conflict.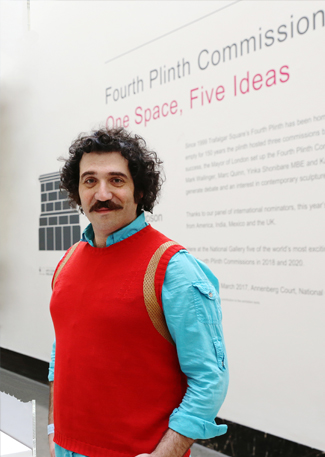 "The salvage of date-syrup cans makes present the human, economic and ecological disasters caused by the Iraq wars and their aftermath," Rakowitz says.
The Lamassu is part of The Invisible Enemy Should Not Exist, Rakowitz's ongoing 11-year effort to recreate over 7,000 looted or destroyed archeological artifacts from the National Museum of Iraq. Thus far, Rakowitz, with the help of some two dozen other artists (including Northwestern alumni), has completed nearly 700 works using the recycled packaging of Middle Eastern foodstuffs and Arabic newspapers.
"It's clearly a project that is going to outlive me and my studio, which is really the point: history cannot be reconstructed," says Rakowitz, whose works are displayed in collections around the world.
Rakowitz hopes the Lamassu reminds viewers of the destructive cost of war and stimulates discussion about immigration. But he hesitates to ascribe any specific meaning to the work.
"I hope people see things in it that I don't see," he says. "That's what excites me about art: people are enlisted as vital collaborators in the production of meaning."
Following its two-year run on the Fourth Plinth, Rakowitz would like to see the Lamassu reestablish its place as the city of Nineveh's gatekeeper.
"The recreation will stand outside [in Trafalgar Square] with wings raised, still performing his duty as guardian of Iraq's past and present, hoping to return [to Nineveh] in the future," Rakowitz says. 
Back to top