Paths: Nicole Gonzalez Van Cleve '99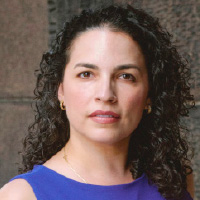 Nicole Gonzalez Van Cleve still remembers how she stocked up on yellow legal pads, preparing for her undergraduate internship at America's largest criminal court: Chicago-Cook County. She was participating in the College's Chicago Field Studies Program, where students intern for a quarter while taking a class that provides perspective on the experience.
"I went in thinking, 'I'm going to be an attorney someday.' But I was seeing all these problematic social dynamics —from how prosecutors wallpapered their offices with mug shots to their racial jokes with courtroom police and judges," she recalls. "So, in the margins of my legal pad, next to my case notes, I began to write down observations."
As a budding ethnographer assuming the role of a law clerk, Gonzalez Van Cleve initiated 10 years of data collection, resulting in her recently released and well-reviewed book, Crook County: Racism and Injustice in America's Largest Criminal Court.
"My book was born from my Northwestern experience," says Gonzalez Van Cleve, now a professor of criminal justice at Temple University. "My political science and sociology professors coached me to dig deeper and think critically about what I was seeing. What began as undergraduate research transformed into a calling to help expose and reform the criminal justice system in Chicago."
After the internship, Gonzalez Van Cleve completed over 1,000 hours of additional observation that continued through and beyond her Ph.D. studies, also at Northwestern. She was able to document patterns of racial abuse by those in power —mostly white prosecutors and judges —toward those being tried in the halls of justice, predominantly people of color.
"Being a light-skinned female had its privileges," says the self-described Chicana. "That, combined with being a Northwestern student, helped me 'pass' and gave me access, superseding any suspicion about what I could possibly be writing on my legal pad."
The national media took immediate notice of Crook County. Gonzalez Van Cleve has been featured on major outlets such as CNN, NBC News, and MSNBC's Rachel Maddow Show, where she proudly wore purple. "The Northwestern experience, including crucial support from the Women's Center, armed me with the courage and tools to do this study, to manage being a witness to so much abuse and trauma," she says.
"I wrote the book with conviction but also uncertainty and fear. Now I'm breathing a sigh of relief for the first time in a decade, knowing that people are reading, listening and believing," she adds. "I feel relief for the families, the victims, the defendants and even some of the attorneys who have been so mistreated. I have hope that we might begin to break the codes of violence and silence that have plagued our justice system."  
Back to top