Paths: Dave Revsine '91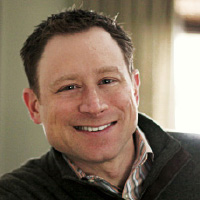 For former ESPN announcer and Big Ten Network host Dave Revsine, being a Wildcat runs even deeper than alumni pride.
Revsine is the son of a beloved Kellogg School professor and Northwestern sports superfan, the late Lawrence Revsine, and Northwestern has always been his home team, his Blackhawks, his Chicago Bears.
Revsine says it's hard to separate the sports media personality he has become from Northwestern, from his days at the old WNUR radio studio where his voice first hit the airwaves and the Weinberg College classrooms where his passion for writing and analyzing facts was ignited.
"Northwestern is such a part of the fabric of my being. Truly. In a weird sort of way, I probably didn't have much of a choice," he jokes, noting that both his parents were alumni and deeply involved in university life. "But it turned out to be a great fit for me and helped me become the person I am today."
After graduating with a history degree in 1991, Revsine spent a year in Dublin on a Rotary Ambassadorial Scholarship, thinking he would go to law school when he returned.
But he soon realized how much he missed covering Wildcats games for WNUR and decided to give sports broadcasting a try.
Revsine got his first break when a friend called with an offer he couldn't refuse. "He was working in local news broadcasting in a small town in Texas and he basically said to me, 'I think I can get you a job.'"
Revsine arrived with no audition tape and on his own dime, but was hired shortly after —first as a local news reporter and then as weekend sports anchor. Three years later, ESPN came calling, and the rest, as they say, is history. He spent 11 years as an anchor and a play-by-play broadcaster at ESPN before returning to Chicago in 2007 to help launch the Big Ten Network. Today he serves as lead studio host on the network's Emmy Award-winning football pregame show and an announcer for Big Ten men's basketball games.
In 2014, Revsine's book The Opening Kickoff: The Tumultuous Birth of a Football Nation became a New York Times bestseller, garnering much praise for its lively, well-researched look at the history of college football.
"One of the things that became apparent to me as I went along is that a liberal arts degree prepares you for any number of paths," says Revsine, winner of a 2015 Northwestern Alumni Merit Award. "Other than writing my book, I didn't end up doing anything relating to history, and yet I feel I had the perfect education to do anything I wanted."  
Back to top