Paths: Sheri Prentiss
Sheri Prentiss '89 survived breast cancer and became an inspirational motivational speaker.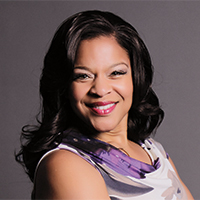 Sheri Phillips Prentiss always wanted to be a doctor. 
From the time she was 2, she knew that her purpose in life was to help others heal.
But after a series of trials that included divorce, depression, breast cancer and her mother's failing health, Prentiss herself was badly in need of healing. The final blow was the post-chemotherapy swelling from lymphedema in her right arm and hand, which effectively ended her career as a practicing physician. 
Staring out her office window, facing the end of her 16-year career, Prentiss tried to envision a new future. "What am I good at outside of being a physician?" she thought.
The idea of reviewing medical records and confirming diagnoses didn't appeal to her. She didn't feel she could really reach people by sitting in front of a computer. 
Then she remembered a conversation she'd had at church with a woman who was curious about the compression sleeve Prentiss wore to ease the swelling in her arm. As Prentiss shared her story, others stopped to listen. At the end of the conversation, several people invited her to speak to their women's group about her journey.
"I thought about how I felt sharing my story," she remembers. "It came so easily — it flowed. I just felt liberated, and I saw in people's eyes some glimmer of hope because there was something in my story they could identify with." 
Prentiss made a decision. If she couldn't heal with her hands, she would heal with her words. 
"I didn't know how this was going to put food on the table, but I just knew it gave me purpose," she says. "I was influencing and healing people in a different way than I had before."
Today, as the Susan G. Komen 3-Day for the Cure national spokesperson, Prentiss tours the country and inspires others with her own story as a divorced mother of two who faced breast cancer and the loss of her career to become a motivational speaker and physician consultant. Flashing her rhinestone-bedecked compression sleeve, Prentiss is known as Dr. Sheri — the woman who arm-wrestled breast cancer and won.
Prentiss has designed a similar decorative sleeve for other women, and her new business is flourishing. More speaking engagements, a new website (DrSheriMD.com) and a memoir are on the way. Her personal life is also thriving, with a recent marriage to Donald Prentiss '87. 
With her message of confronting fear head-on, Prentiss hopes she can mend at least as many people as she did as a physician.
"I got into medicine because being able to heal was of utmost importance to me," she says. "Now I am healing with my words, I am healing with my life, I am healing by setting an example." 
Back to top