Paths: Helen Froelich Holt
Helen Froelich Holt '34,?'38 broke new ground for women in government and politics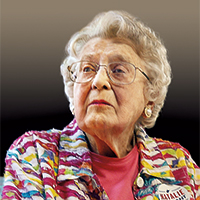 Helen Froelich Holt never saw herself as a trailblazer.
"I was just working and doing what needed to be done," she says. "When I think back, I was a pioneer in an awful lot of things, and I didn't realize it at the time."
She didn't realize she was carving a new path in the 1930s as she set off for college from rural Gridley, Ill., the only girl in her class to do so. 
And she didn't know she was exploring new territory a few years later as one of only two women in Northwestern's graduate program in zoology. It was an experience that prepared her for many challenges that came her way. 
"It was a good general education that helped me know how to think for myself," she says. "With all that background in different areas, I could learn to do anything."
Holt went on to become a teacher at National Park College near Washington, D.C., where she met her husband, Rush D. Holt Sr., the youngest man ever popularly elected to the U.S. Senate.
"At first, I wasn't interested in him because I wasn't interested in a politician," she laughs. 
Once they became friends, Holt changed her mind. "I thought he was the smartest man I'd ever met," she remembers. "I enjoyed talking with him. That was our beginning."
Tragedy struck when Rush died at 49 after battling cancer. Once again, Helen found herself treading new ground, as a single working mother of three serving out her husband's term in the West Virginia House of Delegates from 1955 to 1957.
"Rush said from his hospital bed that he wanted me to take it," she remembers. "I never would have thought of doing anything like that, but when he asked me, of course I did it. I felt right at home because my colleagues were Rush's friends and they had confidence in me."
Politics may not have been Holt's calling, but she took quickly to her new role. She served as a delegate to the 1956 Republican National Convention and was appointed the first female secretary of state in West Virginia in 1957. In 1960, President Dwight D. Eisenhower named her to head an initiative to reform nursing homes across the country. It would be the first of her appointments by seven consecutive presidents to positions in the Federal Housing Administration and the Department of Housing and Urban Development.
Holt celebrated her 101st birthday this year surrounded by some of the many people she has inspired, including her son Rush D. Holt Jr., who is finishing eight terms as a New Jersey congressman. She is lauded for the strides she took for women in public office, though she didn't see herself as a role model at the time. 
"I just liked to work for something that was worthwhile," she says.  
Back to top