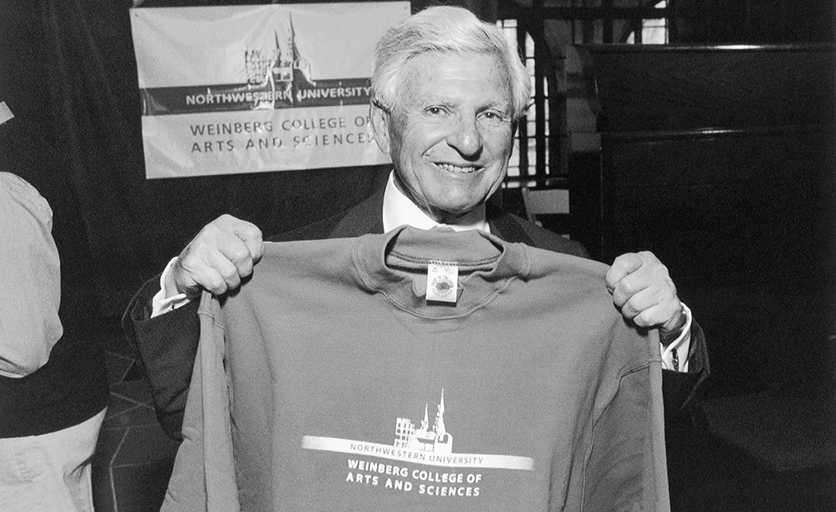 Remembering Judd A. Weinberg: 1926-2020 
The Class of 1946 alumnus, trustee and benefactor's belief in "the mission of a great research university" led to the naming of the Weinberg College of Arts and Sciences 
Two afternoons a week, as a Northwestern business student in the 1940s, Judd Weinberg left the leafy confines of Evanston to lead an after-school program at a church on Chicago's Rogers Park neighborhood. 
The 10-year-old boys in the program "had never been anywhere," Weinberg recalled in 2011. So on Saturdays, he would take them into downtown Chicago to introduce them to the cultural marvels of the city — the Field Museum, the Shedd Aquarium, the Lincoln Park Conservatory.  
"I got even more out of it than they did," recalled Weinberg, who would spend the rest of his life fulfilling that early commitment to service.  
Weinberg, whose transformative gift to Northwestern in 1998 led to the naming of the Judd A. and Marjorie Weinberg College of Arts and Sciences, died Feb. 20 at the age of 93. His legacy includes a large and extended family, a remarkable career in business and a lifetime of generosity toward Northwestern and other institutions.  
Empowering the next generation of leaders
"My father believed in the mission of a great research university: to discover new knowledge, and to train, motivate and empower the next generation of leaders," said David Weinberg, a Northwestern trustee, member of the College's Board of Visitors and the eldest of Weinberg's three sons.  
Weinberg's gift made possible a host of enhancements at the College, including the hiring of new faculty across numerous fields, new and expanded programs, independent research opportunities, and partnerships with cultural and scientific institutions.  
Weinberg and his family also gave generously to other Northwestern schools, including the Feinberg School of Medicine, the School of Communication and the Kellogg School of Management. In 1982, he joined the University's Board of Trustees and was named a life trustee in 1995. He received the Northwestern Alumni Medal, the highest honor given by the Northwestern Alumni Association, in 2000. 
Weinberg's late wife Marjorie was also an alumna of Northwestern (WCAS '50), although the couple did not meet until after he had graduated. They married in 1950, and three years later Judd Weinberg joined his in-law's family business, D. Gottlieb & Co. Weinberg introduced the company's product — non-gambling pinball machines — into markets around the world, growing the business into a global leader. In 1976, he sold the company to Columbia Pictures Industries. He also founded a financial services firm, Judd Enterprises.  
'Nobody does this on their own'
Weinberg's other philanthropic endeavors included Gottlieb Memorial Hospital, the Ravinia Festival Association, Rush-Presbyterian-St. Luke's Hospital, and the Jewish Federation of Metropolitan Chicago.  
Weinberg credited Northwestern with teaching him not only how to be a leader, but how to get along with others. He attributed his success to "working hard and being fortunate, being surrounded by able people. Nobody does this on their own." 
His gifts to Northwestern and other institutions will ensure that generations continue to benefit from the education that served him so well.   
"Judd Weinberg embodied the best of Northwestern," said Northwestern President Morton Schapiro. "What a giant he was. What a life he led. What a legacy he has left." 
Back to top