What did you do with your arts and sciences degree?
Adrienne Moore '03 gained the courage to 'dream big' and pursue a successful acting career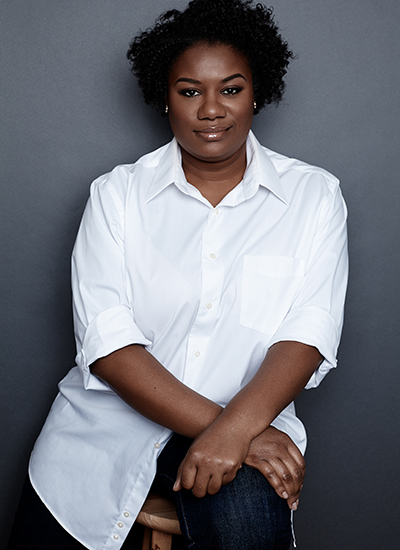 Like the paths that cross the Northwestern campus, Adrienne Moore's life since graduation has been filled with many plot twists.
As a high school senior, Moore was not familiar with Northwestern, so it was not at the top of her college list. In an effort to convince her to attend, her mother took her on an unexpected campus visit. A rebellious Moore jumped out of the car and began wandering the campus alone.
"I'm taking it all in, thinking 'This is dope,'" Moore recalls. "They've got gargoyles, Deering Meadow looks cool, the trees are colorfully luscious, and these pathways appear endless. What seemed like hours of exploration but was actually about 30 minutes literally made my decision. I wanted to attend Northwestern. When I returned to the car to inform my mom, all she focused on was that I had jumped out of the car!"
Moore went on to major in psychology, history and religion, but her path would ultimately lead her in a different direction. "I knew I wanted to make a major impact on the world, but I had no idea what that would look like," Moore says. "Northwestern taught me that when a person applies themselves, opportunities will present themselves in a big way. My experience there helped me define who I am and what's important to me, and to realize that I have something to contribute. I matter."
Moore's post-graduation path included a potential job as a financial adviser (which she declined), positions in retail and marketing, and acting classes. When the company she worked for went out of business, she decided to pursue her dream of an acting career. Spurred by the confidence she'd gained at Northwestern, she headed to New York to pursue an MFA and begin the grueling audition process. Eventually she caught the eye of Tina Fey, who helped jump-start her career.
Moore spent seven seasons as the character Black Cindy in the hit Netflix series Orange Is the New Black, winning a Screen Actors Guild award and an NAACP Image Award for her work on the show.  In June, she shared her journey with the Class of 2020 as the College's 2020 Convocation speaker. Among her pieces of hard-earned wisdom: "Dream big. Dream the unimaginable …. And live your life how you see fit."
Today, Moore is working on The Lady Dicks, a Canadian TV series about two detectives, and developing her one-woman show, I Want To Be a White Woman.
"I want to explore my experiences of growing up in and attending predominately white neighborhoods and schools and being in an industry that privileges White America over all spheres of life," Moore says.
"My message is, everyone deserves a seat at the table. And like the many twists and turns in my journey as an artist, there are many ways to tell a story. So let's spread out and make room for everyone."
Back to top