Leading on Diversity, Equity and Inclusion
Drawing on more than 30 years of research, leadership scholar Alvin Tillery teaches executives to remove bias and lead transformative change
For business leaders, "diversity, equity and inclusion" has long been an organizational "box to check."
They have sent their employees to workshops that have revealed their workers' unconscious biases. They have posted mission statements that proudly tout the organization's forward-thinking views on fostering a diverse and inclusive workforce. 
But have such efforts really made a difference? Have they reshaped those organizations in ways that are, in fact, truly more diverse, equitable and inclusive?  Associate Professor of Political Science Alvin Tillery isn't sure that they have, and is about to offer an alternative to leaders who truly want to make change.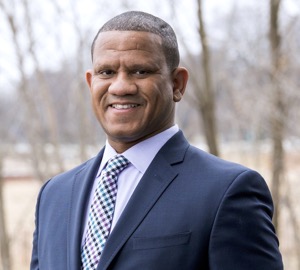 Tillery, a scholar who studies leadership on diversity, equity, and inclusion issues and American politics, has drawn on his decades of research to develop a new program that will enable leaders to strengthen diversity within their workforce. His new "Leading Diversity, Equity and Inclusion" course will incorporate his findings from 30-plus years of work in the field.
"A lot of courses teach people that DE&I work is really hard, and that it's difficult to promote change within organizations," Tillery says. "What I teach is how to get over those hurdles."
Transcending non-conscious bias
The standard diversity training, Tillery says, focuses on non-conscious bias: learned, deeply ingrained stereotypes that influence behavior, but of which the holder is not consciously aware.
"Everyone loves the concept of non-conscious bias, because it implies that if an organization isn't equitable with regard to gender, race or LGBTQ+ issues, it's not because they're doing anything wrong — it's because their brains are wired to have these biases," Tillery says. "So that's a very appealing place to start one's training, because it disarms people and makes them think, 'I am a well-intentioned person.'"
The problem is that the psychological research that underpins that notion contends that unconscious bias can't be trained away. So that's where most DE&I trainings stop — "and that's the last thing you want to do," Tillery says. "That is only the first step in a series of 50 steps that organizations might need to take."
Observing that DE&I trainings have failed to generate the change that business leaders say they would like to see, Tillery decided to focus on a new audience: the leaders themselves. 
In developing the new short course, he has drawn on the proven lessons of history and in particular the political and social leaders who have overcome great resistance to advance the cause of diversity: President Lyndon B. Johnson and his Great Society initiatives; Martin Luther King, Jr., and Fannie Lou Hamer and the civil rights movement; President Harry S. Truman and his executive order to desegregate the U.S. military. 

Learning from the past
"We'll be taking the lessons from the middle of the 20th century and transposing them to the challenges of today," Tillery says. "The point that I am making is that if someone like Truman can desegregate the armed forces in three years, when many of the generals that controlled the military were either the sons or grandsons of Confederate generals themselves, organizations can certainly find ways to diversify their C suites." 
Key to that approach is articulating a common purpose that leaders can share with their employees about why diversity, equity and inclusion are important, Tillery says. That work is then reinforced by an appreciation of the scholarship on leadership and organizational change. Hands-on modules teach leaders how to overcome resistance within their organizations and put their action plans to work. 
"There are huge business and organizational imperatives for diversity, equity and inclusion," Tillery says.
"What we've seen over the past few months, with young multi-racial crowds streaming into the streets to protest inequality, is that workers in the millennial and Gen-Z generations don't want to be anywhere that's not taking these issues seriously. It's going to be very hard for organizations to hold onto talent or to even hire talent if these workers don't think that they are serious about these issues. I'm trying to get people to understand that if you can't hire and keep talent, your organization will struggle." 
Just the first step
In 2017, Tillery established Northwestern's Center for the Study of Diversity and Democracy, a research enterprise that works to understand the role that race, gender and LGBTQ+ identities play in politics. Through his work with the center, Tillery has often received calls from organizations seeking guidance on diversity issues in the workplace. 
"But when I get there, I am often astounded by how little leaders know about how to advance their goals around these issues," he explains.
"I started thinking about the cases and the tactics that they could use to do better. I wanted to build a curriculum where leaders can step back from their daily lives and think about what they're doing in comparison to what others have done in the past. We can't just give leaders the message that 'change is hard, figure it out.' I'm trying to provide a space to get to that 'figuring it out' part."
The short course is just the first step in building what Tillery hopes will be a robust portfolio of resources for leaders who seek to leverage the benefits of diversity, equity and inclusion in their organizations.
"My broader ambition is to make Northwestern the place for executive education on these issues," Tillery says. "Hopefully, this can be the first step in that direction."
Back to top