Q&A: Jennifer Slota '20 & Marco Laudati '20
The presidents of Northwestern's two major political organizations are working together to boost campus dialogue during polarized times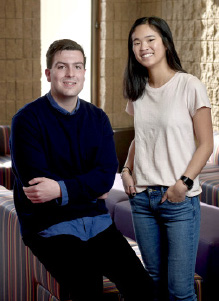 Jennifer Slota and Marco Laudati might not agree on much politically. But as leaders of Northwestern's two major political organizations — the College Democrats and College Republicans, respectively — they've done much to bolster campus dialogue. During the 2018 election cycle, they hosted debates, worked to help maintain Northwestern's stellar turnout rate, and welcomed speakers such as former U.S. Attorney General John Ashcroft and presidential speechwriter Cody Keenan '02 to campus.
Weinberg spoke with Slota and Laudati about how current events are shaping Northwestern's political climate.
The 2016 election was a watershed moment for American politics. How did your organizations respond?
ML: Our group didn't endorse any of the Republican presidential candidates. But after the election, it was interesting. I think people came to the meetings expecting to talk to others with like opinions. But we often ended up arguing over policies that the president might or might not act upon.
JS: I think our group has had a more united front since Donald Trump was elected. We're not so much trying to make peace with what's going on — we're focused on trying to turn things around. We do a lot of action events and talk about how we can engage with the community.
How have you worked together to promote political discussion on campus?
ML: We try to do several debates with [the Northwestern student group] Political Union each quarter. In past years, we only did one. So, Political Union will pick a topic — for example, "Was the government shutdown good for democracy?" — and we'll both send someone who has something to say.
JS: We've done some social events and we've had watch parties for the recent elections. [The dialogue] is much different than what you hear in Washington. It's really productive. I definitely think we should be doing more things together.
How have the last two years influenced how you, and your groups, approach politics?
JS: I think the last two years have calcified a lot of beliefs and maybe caused some people to turn their backs. But for me, the extreme nature of the politics has challenged me to see the nuances. I've learned there's never going to be a perfect candidate. I find myself thinking, "OK, there might be a middle here that's not so bad and is actually more realistic."
ML: There's a certain amount of self-reflection, not just with regard to President Trump, but also within our own party. There is a little more debate among ourselves about what each of us believes and which candidates support the values and policies we believe in. And there is a lot of enthusiasm for discussion about different aspects of political society today.
Want to make a difference? Support Weinberg College with a gift today.
Back to top