Arch Scholar Nigel Anderson '19: Bound for Medical School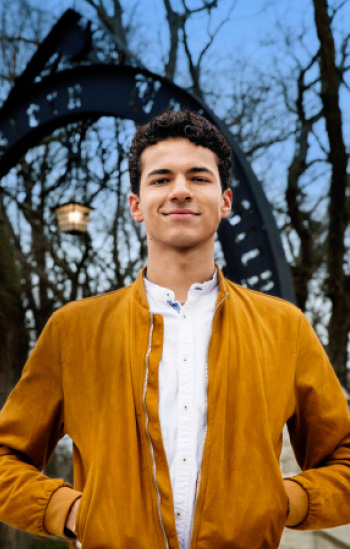 Nigel Anderson '19 (left) was used to being one of the few people of color in his honors classes in high school.
That doesn't mean he always felt comfortable in them."I look different, I sound different, my perspective is different," said Anderson. "I would be the only person of color in a room with 30 other people. I'd wonder: Can I speak up? Can I raise my hand if something rubs me the wrong way?"
So Anderson wasn't quite sure what to expect when he was invited to join the summer Arch Scholar program Bio&ChemEXCEL prior to his first year at Northwestern. "I kind of walked into it with my arms crossed," he admitted. "I had an attitude of, 'I'm self-sufficient, I'll do it myself, I don't need help.'"
But the support he discovered in the program "blindsided" him — in a good way.
"We're all in this together"
"There were graduate and undergraduate students who had gone through what we were about to go through, offering us moral support. Senior-level deans came to tell us they were there when we needed them. A nutritionist even came to talk to us about wellness and how to eat in the dining halls. I didn't even know we had a campus nutritionist!
"It surprised me, because elite universities can have the reputation of being 'every man for himself.' So to get here and have the first words be 'we're all in this together' was a hugely impactful moment for me."
Bolstered by that experience, Anderson signed up for another Arch Scholar program, NU Bioscientist, as soon as the fall quarter began. A two-quarter program that takes place during the academic year, NU Bioscientist aims to launch diverse students into the world of scientific research — an intriguing prospect for Anderson, who aspires to a career in medicine. By the end of the year, Anderson was assisting with stem-cell research in a lab at the Feinberg School of Medicine.
Giving back
He also began to mentor younger Arch Scholars, both in class and individually. He has tutored students and helped them apply for research positions and grants. And during the summers, he has been a counselor to entering Arch Scholars facing the same concerns that once bedeviled him.
Anderson is now planning to apply to medical school — a path that would have been "a lot less plausible" without the support of the Arch Scholars program.
"Having that message in my head: 'Your voice is valid and should be heard. If you don't think something is right, speak up. If you don't understand something, speak up. If you know the answer, speak up. You're just as qualified as the people to your left and to your right.'"
Without Arch Scholars, "Northwestern would have been a lonelier place, for sure," Anderson said. "I would have fallen through the cracks, absolutely."
Want to make a difference? Support Weinberg College with a gift today.
Back to top