Arch Scholar Brian Hannah '20: Working the Research Angle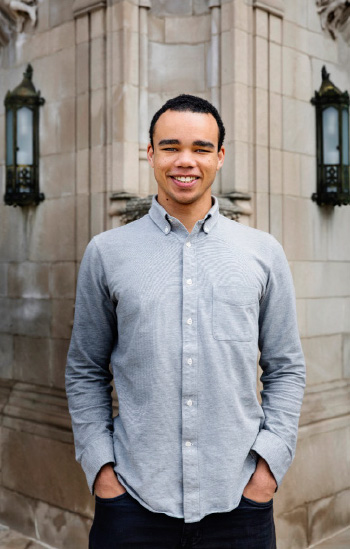 Research wasn't something Brian Hannah '20 (left) was thinking about during his first year at Northwestern.
Business, marketing, consumer behavior — all intrigued Hannah as he contemplated his future. But spending his summer on the Northwestern campus, learning how to perform linear regression analyses?
Not an opportunity he had considered, until his adviser mentioned the Posner Research Program to him. "It seemed like an interesting thing to do," Hannah says. "As a first-year student, I wasn't too familiar with all the opportunities here. But there's a decent chunk of students who are doing research, even those who aren't trying to get a PhD after they graduate. There are all these people going into business and the medical field who are doing their own research projects."
The gamut of disciplines
Curious, the international studies and political science major signed up for the Posner program the summer after his first year. He soon found himself surrounded by a diverse group of students whose interests covered the gamut of academic disciplines, from sociology to economics to biology to neuroscience.
Every student had a particular area of passion — and the Posner faculty helped each one to focus it on a well-defined question. For Hannah, that meant narrowing his broad interest in consumer behavior and entertainment into a research project that explored how box-office trends have evolved over the past 10 years.
"It seemed like more importance was being placed on opening weekends now, compared to a decade ago," he observed. So Hannah decided to explore the impact of online reviews and other trends that have shaped movie-going behavior in recent years.
To do that, however, Hannah had to develop skills in linear regression analysis and data collection, not to mention a greater facility with academic literature and spreadsheets. That entailed regular meetings with faculty mentors who helped him hone his approach as the summer progressed.
A new confidence
His work culminated in a research symposium at the end of the summer, where Hannah and his peers presented their findings to an audience of faculty, deans and fellow Posner participants.
Now, with a new confidence in his research and presentation skills, Hannah is looking ahead to a summer internship at Amazon, a career in business and consumer marketing, and possibly an MBA.
"I find consumer behavior really cool, for the same reason that I like political science and international studies. The way my project shifted helped me realize that," Hannah says. "Figuring out why people do what they do, why they buy what they buy, why they vote the way they vote — there's so much you can do from the research angle. Testing things, seeing how different prices or promotions work, tweaking things and trying them again — that's really exciting to me. I know I'll be taking a research perspective in the work I'll be doing in the future."
Want to make a difference? Support Weinberg College with a gift today.
Back to top