Meet the Arch Scholars
As Northwestern grows ever more diverse, the Arch Scholars program ensures that all students have the support they need to thrive
In 2016, Northwestern President Morton Schapiro announced an ambitious commitment to diversify the student population at the University.
That meant more students from a broad variety of backgrounds. More first-generation college students. More from under-resourced schools and communities. More whose fam­ilies are eligible for federal Pell grants, which are designed to help students who have financial need.
By the year 2020, Schapiro said, he expected one out of every five admitted students to meet the Pell guideline, the standard marker for an institution's commitment to socioeconomic diversity.
It was a bold move to ensure that Northwestern's student population reflected that of society more broadly. Admissions officers set to work to draw more applicants from places that had rarely sent students to North­western — places like rural America, the Deep South and public school systems in low-income urban communities.
A year ahead of its self-imposed deadline, Northwestern has achieved its ambitious goal. In 2018, a full 20 percent of the entering class was composed of students who are Pell-grant eligible, compared to 13 percent in 2012. In addition, there are more students from diverse ethnic and geographic backgrounds than ever before.
Their academic achievements are impressive, even more so when one considers that many of these students graduated from under-resourced high schools — those with few or no Advanced Placement classes, for example, or without guidance counselors to light their path toward college. And yet Northwestern's academic profile has grown increasingly competitive even as the University has sought to enroll a broader cross-section of society.
But this commitment implies a parallel obligation: to ensure that these students receive the support they need to succeed in Northwestern's fast-paced and demanding academic environment. "Many of these students are coming from schools that don't have the same resources as schools that a lot of our other students come from," says Lane Fenrich, assistant dean for first-year students. "So no one's told them certain things. They might not know that faculty are available to meet with them during office hours. They might not understand their financial aid package, or how to seek out a summer internship or build a professional network.
"These are things that allow you to succeed at Northwestern and get the most out of the place. If you don't know that these are things you are supposed to be doing here, it can be very difficult."
Four Unique Programs
Arch Scholars comprises four individual programs. The largest of these is Bridge, a summer program that brings incoming first-year students to campus for five weeks of pre-college coursework and mentoring. Bio&ChemEXCEL is another summer program geared specifically toward those with a strong interest in STEM.
Two additional Arch Scholar programs aim to introduce students to the world of academic research: NU Bioscientist, which prepares students to pursue their own research in Northwestern's scientific labs, and the Posner Research Program, which matches students with faculty members to pursue summer projects of their own design.
Each Arch Scholars program is unique, but all share the vital components of mentorship, community-building, and teaching students to do what might not come naturally. From the beginning, Arch Scholars are surrounded by peers who make it clear that they are not alone. Faculty members invite conversation and offer support. And students who proceed through the programs are invited to serve as mentors for incoming first-years.
"All Northwestern students have to deal with challenges, but it's harder when you haven't had the same preparation as your peers," says Luke Flores, assistant director for first-year and transition programs. "We're here to help students navigate this space, because all students deserve similar levels of guidance and support."
Data shows that these efforts are succeeding. Northwestern is now attracting and retaining more students from diverse backgrounds and under-resourced high schools. Students in Arch Scholar programs report increased confidence in their ability to do research, manage their time and seek help from their peers — all skills that contribute to academic achievement.
And there are other indicators of success — evidence that Arch Scholars is indeed creating the sort of community that will enable every Northwestern student to thrive, regardless of his or her background.
"We see it when we put out the call for peer mentors to serve in these programs — how excited and eager they are to support the next class of students coming up," Flores says. "We see it when we walk down Sheridan Road and see them talking and laughing together. We see it in the happy emails we receive from them when they are accepted to graduate school and internships. "And we see it every spring, when we celebrate with our graduates and watch their friends and families cheer them on."
No matter where they come from, when they arrive at Northwestern, students in the Arch Scholars program discover abundant support and a welcoming community on the other side of the arch.
Arch scholars

Nigel Anderson '19 
The NU Bioscientist program helped to launch Anderson into the world of scientific research — and onto a path toward medical school.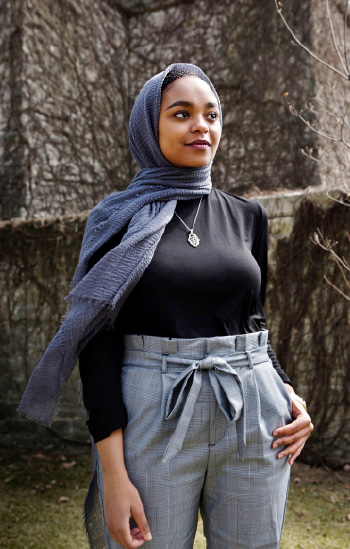 Rwan Ibrahim '22
The Bio&ChemEXCEL program has given Ibrahim the confidence to succeed at Northwestern and pursue her dream of becoming a doctor.  



Sydney Matrisciano '22
The Bridge program for incoming students gave the Mississippi native "the skills to counteract any doubts I might have had about belonging here."

Read Sydney's Story



Brian Hannah '20
After honing his research and presentation skills in the Posner Research Program, Hannah is looking ahead to a career in business.

Read Brian's Story

Weinberg College wishes to thank the following alumni, parents and friends for their significant support of the Arch Scholars Program:
Susan Byrd and Mark Lampert ('20 P)
David A. Helfand '86 and Leslie Bluhm
Melissa '85 and Oscar David ('19, '20 P)
Amb. Fay Hartog-Levin (Ret.) '70
Daniel H. Pink '86 and Jessica Lerner
Brian S. Posner '83 ('21 P), Trustee, and Lauri Posner
Ivan '84 and Martha Schlager ('22 P)
Want to make a difference? Support Weinberg College with a gift today.
Back to top