When Students and Alumni Connect
When it's time to enter the working world, Weinberg College students possess two powerful advantages: a broad and transferable skill set, and a successful and devoted alumni network.
"The trick is getting students to believe the former, and to avail themselves of the latter," says Jane Corey Holt, director of the College's Austin J. Waldron Student-Alumni Connections Program.
The program works to drive both points home to students as they take their first steps into the professional arena. Through panel discussions, workshops and alumni-hosted "career treks" to organizations in a variety of sectors, students gain practical advice and the inspiration to pursue their unique career paths.
Key to the program's success is the participation of alumni like Colleen Van Ham '94, president and CEO of UnitedHealthcare of Illinois. Van Ham hosted students on a December 2015 career trek to discuss opportunities in the healthcare field. Her encouragement and candor had an inspirational effect on Maggie Hoffman '18, who took a major step forward on her own path after hearing about Van Ham's experiences.
That's the kind of thing that happens when students and alumni connect, Holt says.
"When our students meet our alumni and learn about the varied and sometimes surprising career paths our graduates have taken, their anxiety gives way to excitement. And when our alumni insist that the skills they developed at the College — like clear communication, collaboration, critical thinking and a strong work ethic — have driven their success more than any particular course of study, students believe them. It's powerful!"

Maggie Hoffman '18
Major: Economics
Career goal: Consulting
"For economics majors, it often feels like there are two common career paths — finance and consulting. But I was interested in a variety of possibilities, and I particularly wanted to find out how my academic background could translate into a career in healthcare. The career trek to UnitedHealthcare of Illinois gave me a chance to learn more about the field and to meet the alum leading the company.
After a tour of UnitedHealthcare's offices, Colleen talked to us candidly about the value of a liberal arts degree. Her answers were honest and genuine. She even mentioned that she had questioned whether she was ready to lead UnitedHealthcare.
She was grateful that her mentors and colleagues encouraged her and assured her that she was ready to lead.
At the time, I was deciding whether to pursue a leadership role in a student business group. Colleen's experience resonated with me. I'd initially been hesitant to apply, but after the trek I submitted my application immediately. I wrote a note to thank Colleen for her wisdom and guidance. She replied that it was natural to doubt ourselves, but that when others ask us to be a leader, it's because they already view us that way. We just have to reach that realization ourselves."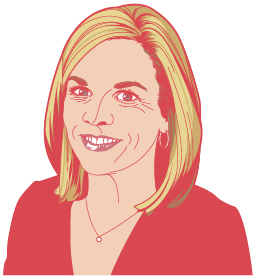 Colleen (Hastings) Van Ham '94
Major: Economics and International Studies
Now: President and CEO, UnitedHealthcare of Illinois
"As an undergraduate, I'll readily admit I was befuddled. You see the engineering or pre-med students with a very defined path ahead of them. They seem to have it all figured out. As a liberal arts student, you're asking yourself, 'What am I? Where do I fit?' So I know how complex and pressure-filled these times can be, and that's precisely why I wanted to host the students at UnitedHealthcare.
I recall one student asking me how I knew I was ready for the CEO role. I had to be candid. I didn't know. I thought I needed more time to prepare. Others saw it, though, and they encouraged me. Lo and behold, I was ready.
If someone had shared an experience like that with me when I was an undergraduate and assured me that I'd find my way and that I was armed with the skills to succeed, it would have relieved a lot of the pressure I was feeling. So receiving that note from Maggie and hearing that my experience had inspired her was immensely gratifying.
I wanted to reassure the students that they would find their own path. But I also wanted to encourage them to let the journey play out. Take something from every opportunity. Resist any feelings of disillusionment. Be a positive contributor. If you do these things, then the next thing will come. That's exactly what happened for me and what I believe will happen for many students as well."
About Austin J. Waldron '78
Up until the end of his sophomore year at Weinberg College, Austin J. Waldron '78 had planned to become a doctor. "It was the only thing I had ever thought of," Waldron says. But after a few pre-med classes, he realized that career path was not the right one for him.
Like many students who pursue a particular major but later decide to change paths, Waldron engaged in a certain degree of soul-searching. "I thought, 'What do I do now? What do I tell my parents and my grandparents?'"
Waldron ultimately decided to major in psychology and discovered a rewarding path that he never could have anticipated when he first arrived at Northwestern. He realized that myriad career options were open to him, and that the skills he had gained as an arts and sciences student prepared him to pursue any of them. In 2016, he retired after a 37-year career at HCSC, where he had risen to serve as senior vice president of operations.
"Operations is not a field you learn about in high school," he notes with a laugh. But it turned out to be a perfect fit for Waldron, who enjoyed working in many different aspects of the organization, and appreciated the flexibility afforded by his arts and sciences degree.
Waldron wants today's Weinberg College students to realize that they, too, can pursue many paths, regardless of the major they declare. 
"My goal is to encourage more students to realize that if their plans change, that's OK," he says. "With a liberal arts degree, you can always pivot to pursue a new path. The goal is to pursue something that you are going to be happy with."
The Power of Connection
Interest in the Austin J. Waldron Student-Alumni Connections Program is growing as students and alumni seek opportunities to connect with each other.  
Since 2013, the program has hosted 80 events, 29 career treks, and 48 panel discussions.
The five most popular panel discussions:
I Majored in Neuroscience. Now What?
Business Careers Beyond Finance and Consulting
Careers for Global Thinkers
Liberal Arts to Law
Careers for Econ Majors Beyond Banking and Consulting
Back to top