The Scholar Resurrected
A hardscrabble upbringing in Jim Crow Mississippi laid the groundwork for sociologist Aldon Morris's lifelong study of race and inequality.
One of Aldon Morris's earliest memories of his childhood in rural Tutwiler, Miss. was the lynching of Emmett Till, whose body was dumped in the nearby Tallahatchie River. 
Till, a 14-year-old Chicagoan visiting Mississippi, had paid with his life for an unfounded accusation in 1955 that he had flirted with a white woman. 
"I had nightmares," recalls Morris, who was 6 at the time. "I couldn't sleep, thinking about what it would be like to be left in a river to die." 
Till's murder wasn't the only injustice haunting Morris. Throughout his childhood in the Mississippi Delta of the 1950s — the heartland of Jim Crow racism — Morris experienced painful inequities.
"Starting in kindergarten, we had to use the hand-me-down, torn-up books of white students, so we knew we weren't considered important," Morris says. "To make ends meet, we received second-rate cheese from the government, and we had to drink from 'colored' water fountains. Everything around us reinforced the idea that we were different, we were less."

The future sociologist struggled to make sense of these profound disparities, beginning what would become his life's work as a scholar of race and social inequality. He and others in his generation would come to be known as "the Emmett Till generation" for the galvanizing effect the tragedy had on their commitment to the civil rights movement. 
Today, Morris is Northwestern's Leon Forrest Professor of Sociology and African American Studies. His hardscrabble upbringing has lent him a rare perspective in academia, where he has relentlessly studied the dynamics of discrimination and the motivation of black people to resist oppression.
In April, Morris was recognized with the 2018 John D. McCarthy Award for Lifetime Achievement from the Center for the Study of Social Movements at the University of Notre Dame. The award cemented Morris's legacy as a scholar of remarkable breadth and a mentor to subsequent generations of researchers.
Indeed, Morris's most recent book, The Scholar Denied: W.E.B. Du Bois and the Birth of Modern Sociology (University of California Press, 2015), has been credited with redefining the very underpinnings of sociology. In the book, Morris argues that Du Bois — an African-American scholar, civil rights activist and writer — was the de facto founder of American sociology in the early 20th century, even though his achievements were systematically buried by the academic establishment.
"This book is not just a book, but a book designed to make changes in how sociology works, so that sociology can make changes in the way society works," says Michael Schwartz, sociology professor emeritus at Stony Brook University and one of Morris's early mentors.
Arrival in the "Promised Land"
At one point in Morris's life, such a legacy would have seemed unlikely.
When he was 13, Morris moved to Chicago to join his mother in the all-black section of the Morgan Park neighborhood on the South Side, eager to experience what blacks in the South considered the "Promised Land."
What he found on his arrival was some­thing altogether different.
Venturing into all-white neighborhoods, Morris and his brother Freddie encountered violence. "Shouts of 'niggers go home' and physical aggression by white gangs became familiar," Morris recalls. "I soon realized that being north of the Mason-Dixon line meant only that discrimination was more subtle and sometimes hidden."
The Morris boys attended the predom­inantly white Morgan Park High School, where they and other black students "weren't expected to achieve much," Mor­ris says. "We were not counseled to think about college, and I didn't really have many professional expectations."
After graduation, Morris found jobs in Chicago factories, where he worked throughout the 1960s. Watching and reading news reports about the burgeon­ing civil rights movement in the South, he was moved by the fearless oration of Martin Luther King Jr. and the willing­ness of Southern blacks to protest publicly despite vicious attacks by police dogs and high-powered water hoses.
"I understood racial segregation, the humiliation of having to go to the back of the bus, to have your grandparents referred to as 'Boy' and 'Auntie.' I understood it all in a very personal way," Morris remembers.
If it weren't for the urging of a co-worker to enroll at a community college, Morris might have stayed on as a stock boy at the Spiegel warehouse. But at 18, Morris reg­istered at South East Community College, despite fearing that others would laugh at him. As a young black male, "you generate all these great mythologies about what col­lege is. You come to see it as something that is out of reach and not for you," he recalls. "But when I started community college, I recognized that I was as smart and capable as anybody there, and that was a revelation."
 "Why Couldn't I?"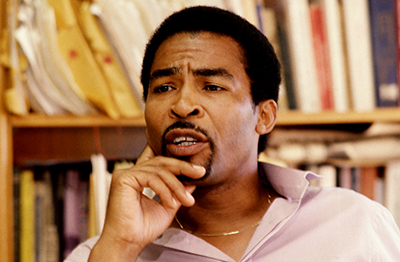 Morris truly thrived in the academic setting. His favorite class was led by a black professor from the South who introduced him to Du Bois's story and his historic confrontation with the conservative educator Booker T. Washington over the most effective routes to black liberation. Morris delved into Du Bois's masterpiece The Souls of Black Folk, his poetry, his sociological research and his fiction. He came to see himself in Du Bois, a fellow black man who worked to change the injustice around him through scholarship. 
"I found great inspiration from Du Bois and wanted to be able to express myself with the power and eloquence he had. Reading him was personally empowering. I thought, 'If a black man at the dawn of the 20th century could do this, why couldn't I?'" 
His professors encouraged Morris to continue his studies at Bradley University in Peoria, Ill., where he excelled but was disappointed that none of his classes included Du Bois's works. He quickly earned his
bachelor's degree, and again several professors pushed him to pursue a doctorate in sociology, guiding him through the graduate school application process. 
Morris went on to Stony Brook University, where he saw once more a lack of scholarship on Du Bois and promised himself that one day he would help right that wrong. He researched how black activists ignited
the 1960s civil rights movement and wrote his dissertation on the topic. His scholarship culminated in the book Origins of the Civil Rights Movement (Simon and Schuster, 1984), which made him famous in social movement circles. 
With his Ph.D. in hand, Morris joined the sociology department at the University of Michigan in 1980. In 1988, he arrived at Northwestern, where he has since served as  chair of the sociology department as well as the interim dean of Weinberg College. 
"It's funny — I had never considered being an academic," Morris says. "I went to grad school because I believed there were some fundamental laws of social change, and that once you learned them you could go back to your community and implement them." 
Two Scholar-Activists
In the end, Morris decided to continue his life in academia as a kind of activism through which to bring about change — an idea that Du Bois himself had embraced.
In fact, the two scholars share strong similarities. Du Bois had wanted to challenge the injustice around him not only through scholarship, but also as a mentor to young scholars inspired by his use of science in sociology to discredit notions of white supremacy. Morris, too, has encouraged legions of students to research the history and ongoing pursuit of civil rights, including his former student Belinda Robnett, author of How Long? How Long? African-American Women in the Struggle for Civil Rights (Oxford University Press, 1997). 
"Morris is the quintessential scholar-activist," observes Pamela Oliver, a social movement scholar at the University of Wisconsin — Madison. "He has always sought to use whatever position he had to advance the awareness and inclusion of scholars of color and others who are often marginalized within sociology and the larger society." 
Morris also collaborates with younger scholars in the field, such as Crystal Fleming, a sociologist at Stony Brook with whom Morris recently co-authored a journal article on the ways people are using new technologies to combat racial injustice. 
Fleming says Morris has had an enormous influence on their discipline. 
"When I first started teaching seven years ago, I would include Du Bois's work and commentary about its significance," she says. "But nobody had a book like The Scholar Denied. It has given me a conduit
to teach about Du Bois's work and also how sociology was founded, who founded it, what the racial politics were, how much has changed, and how much hasn't changed. 
"This book has made a significant impact on the teaching of sociology."
These days, Morris is working on an encyclopedia of Du Bois's social scientific works that will provide more insight into the scholar who helped inspire Morris's own success story.
"I feel blessed to achieve what I have," Morris says. "My story demonstrates that serendipity, opportunities and mentorship are crucial to achievement. The community where I came from and all my mentors and teachers over the years played a big role in my development. They're like rivers that run from different places into me."
Back to top