What did you do with your arts and sciences degree?
Ben Knight '98 pursues his art while managing a restaurant business and co-starring in a TV series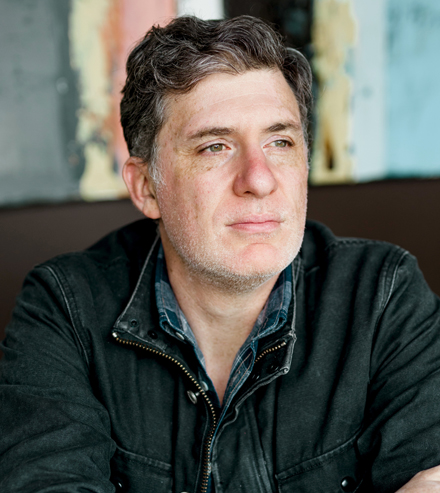 Juggling three restaurants, a filming schedule and six-year-old twins doesn't leave Ben Knight much time for art.
But the English major-turned-painter-turned-restaurant manager has always embraced his eclectic interests. And that's a good thing, because even Knight could not have anticipated that one day he'd co-star in a public television series as well.
Knight's path to A Chef's Life, the PBS documentary and cook­ing series that recently finished its fifth season, began in 1994, when he enrolled at Northwestern as an aspiring biomedical engineer.
It seemed like a logical step, since he'd aced his math and science classes in high school. But when a friend recommended Professor Gary Saul Morson's long-running Russian literature class, Knight realized what he'd been missing.
"What I really wanted was to read and write and think critically about life," Knight says. So he transferred to Weinberg College and switched his major to English literature.
After graduation, Knight, who had always enjoyed painting, changed paths again. He signed up for graduate courses at the Art Institute of Chicago and began to explore the possibility of pursuing art professionally. "I just fell in love with making things," he says.
Knight's passion for art led him to New York, where he worked with artist Larry Poons and began selling his own paint­ings. To pay the bills, he also took a side job at Voyage, a West Village eatery. It was there that he met (and went on to marry) chef Vivian Howard, who was pursuing her own dream of opening a restaurant in her hometown of Kinston, N.C. Knight agreed to be part of the opening staff, thinking he'd soon be back to painting after the restaurant took off.
It didn't happen quite that way.
Despite early financial struggles, Chef & the Farmer became a regional success story. Howard has been nominated multiple times as best chef in the Southeast by the James Beard Foundation Awards, and Knight is now the general manager of a three-restaurant business.
To build on their growing success, Howard approached PBS with the concept for A Chef's Life. The show, which follows Howard as she works with suppliers and her family, gives viewers a realistic glimpse into what it takes to run a farm-to-table restaurant. "The show is entirely true to life," Knight says. "I'm the resident curmudgeon."
Knight still paints whenever possible in his backyard studio and shows his work in local galleries. An English degree, he says, can be surprisingly relevant for someone with a multifaceted career.
"The literature courses I took exposed me to a level of articulation and quality that became a foundation for how I approach my busi­ness," he says. "I learned how to express myself and how to think in depth, and those are qualities that have really served me well."
Back to top