Global Health Studies Charts New Territory
In its first year as a major, the program is celebrated as one of the most innovative global initiatives in higher education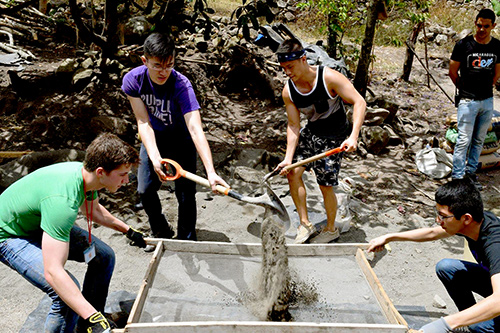 Global Health Studies is growing up fast.
A popular minor among Northwestern University students since its debut in 2004, Global Health Studies was made an adjunct major last year. Since September 2017, more than 80 students have declared the major, and the program will celebrate its first 15 graduates in June.
Tackling global challenges
The immediate popularity of the Global Health Studies major does not surprise program director William Leonard, who says many of today's students arrive on campus with a rich global perspective and earnest desire to tackle pressing world issues.
"Students are recognizing problems that shouldn't exist in the world - problems like malnutrition, infant mortality and infectious diseases. They are embracing the challenge of addressing these issues in new and creative ways," says Leonard, the Abraham Harris Professor of Anthropology.
Among the first undergraduate programs of its kind, Global Health Studies has routinely drawn about 300 minors each year. The interdisciplinary program attracts students from all six of Northwestern's undergraduate schools and includes core courses such as Global Bioethics, Volunteerism and International Public Health.
The program requires students to complete a study-abroad experience, typically at a partner institution overseas. Past students have traveled to Serbia and Bosnia-Herzegovina with assistant professor of instruction Peter Locke to study post-conflict mental health, for example, and to Tanzania with assistant professor of instruction Noelle Sullivan to study local health issues with students from the University of Dar es Salaam.
Unique international opportunities
"We want to provide students with the deepest immersion possible in global health," Leonard says, noting that graduates have pursued careers in fields such as medicine, public health, healthcare consulting and international development.

Earlier this year, the Institute for International Education included the Global Health Studies program among its Andrew Heiskell Award honorees a nod to the program's innovative curriculum and the unique international opportunities it creates.
Leonard adds that the program promotes interdisciplinary thinking across three key areas: data science, intercultural exchange and the natural world. All are priorities for the College as it prepares students for the challenges of the 21st century.
"Global Health Studies integrates across all those domains," Leonard says. "It provides larger critical and social perspectives to help students understand the broad numbers and trends in global health while they pursue thoughtful action."
Back to top