The Art & Science of Entrepreneurship
For students with a business idea, an interdisciplinary mindset provides a critical edge
Two summers ago, Sarah Ahmad '18 was doing an internship in the greater Chicago area. Every weekend, as a treat, she and her friends would travel into the city to try a new restaurant.
Ahmad wanted to make the most out of every experience, so she tirelessly researched her options — only to discover that her diligent efforts led to hit-or-miss results. She could go to a well-reviewed restaurant and still get a meal that was a dud. Or she could find a hidden gem of a dish tucked in the menu of an otherwise so-so spot.  
It was in those moments that HotPlate was born.
"I just wanted to know: what should I order?" says Ahmad (below left). She dreamed of an app that would rate specific dishes at restaurants, not just the restaurants themselves. Ahmad, who is majoring in economics and integrated engineering studies, returned to Northwestern in the fall inspired to address that need. She enrolled in a course called Engineering Entrepreneurship, where HotPlate was just one of six ideas that she and her classmates developed in the class. She followed that up with the Wildfire Pre-Accelerator program at The Garage, Northwestern's hub for student entrepreneurship.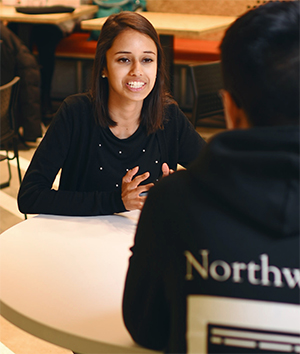 And now the smartphone app is in the wild. It currently boasts hundreds of users and individual dish reviews for dozens of Evanston restaurants. Better yet, Ahmad knows that she and her team are just getting started.
Ahmad's creation may be rooted in technology, but the problems she and her team seek to resolve are all about human nature. "There are so many things people are asking for. Can they text their friend through the app? Get chef recommendations? Can there be other social features?" she says. "But what people think they want and what they actually want are two different things. And they don't even necessarily know for themselves what they want. That's the most difficult part."
That's when Ahmad finds herself drawing on her background in the social sciences, including her economics and political science classes. "It's so important to have empathy for your users, and the social science part of my degree is good at teaching that," she says. "We learned in economics, for example, that the things that you would logically think should happen are often not what actually happen. When you're building something, it's not just about coding it. Real people will use it! So you've got to understand social sciences and human interaction."
Applying human understanding to whiz-bang technology is an approach championed by Northwestern University President Morton Schapiro and Slavic languages and literatures professor Gary Saul Morson, co-authors of Cents and Sensibility: What Economics Can Learn from the Humanities (Princeton University Press, 2017). "Creating a product or service that people want to buy requires emotional intelligence," Schapiro says. "Having soft skills as well as the hard skills helps make people much better entrepreneurs."
A background in the liberal arts might not be regarded as essential for an entrepreneurial career. But perhaps it should be. The arts and sciences bring to bear a range of skills, including creative problem-solving, strong communication and the ability to learn new things, that are critical for any entrepreneur. These skills can help transform a good idea into a great one and a so-so company into a successful one. And these companies lead to innovation, jobs and economic growth. Students and alumni at every entrepreneurial stage — from those with the spark of an idea, to those expanding a company, to those exiting successfully — say the mindset fostered by the arts and sciences has provided a crucial edge.
1. Start
Rethink Everything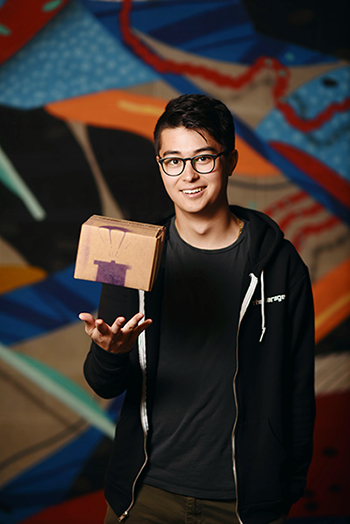 As part of the program, Kim and his friends kicked around an idea to help local farmers sell fresh produce to local restaurants. When doing market research proved too challenging, they thought a little closer to home. "Through interviews, we realized that students don't have a lot of snacks in their room," he says, swiftly moving into a perfectly honed elevator pitch. "I started to think: How could we eliminate the struggle of going to a basement vending machine or all the way down to CVS? When it's a cold day, I don't want to have to go through five doors and up and down three flights of stairs to spend $5 on two things."

That was the starting point for Care Pack­age, a service that delivers a box of snacks — a rotating selection of items from cookies and pretzels to oatmeal and gum — right to stu­dents' doors. While they have stayed true to that fundamental idea, Kim and his team have made plenty of changes in their efforts to hur­dle pricing and business-model barriers.

Kim says the problems he solves as a math and physics major aren't so different from the ones he wrestles with in his business. "I like learning how to solve complex problems — breaking them down and really understanding what's going on," he says. "In physics, for exam­ple, you learn how to solve systems without friction — but the reality is that everything has friction. When experimenting, you learn what happens in the real world. The same is true with a business idea. You start with an idea, but then you have to see what happens in real life."

For example, Kim and his team initially imagined Care Package as a subscription for which students would pay $15 to get a box of treats worth $30 delivered to their dorm room every two weeks. That model fizzled, so they tested other options until hitting on a winner. Today, students use Venmo, a smart­phone-based payment service, to send $5 to the Care Package team. Within 30 minutes, a Care Package delivery person will bring snacks to their door.

Kim and his team currently sell about 15 boxes a week, and they expect that number to rise when they expand their delivery area from two dorms to three. They dream of developing a tool that doesn't just make it easy to deliver snacks to students, but also helps companies solve the "last mile" problem of getting goods to customers efficiently.

Reconceiving problems is an essential skill that arts and sciences graduates bring to the entrepreneurial sphere, says Billy Banks '98. A history and political science major, Banks started and ran multiple companies before he became The Garage's associate director in 2016.

"Entrepreneurship is about being comfort­able with risk uncertainty," Banks says, not­ing that he navigated many white-knuckle moments himself while leading M-Tech, a steel fabrication business. Banks credits his own ability to absorb lots of information — and to make difficult decisions in the face of ambigu­ous or even conflicting reports — in part to his liberal arts education. "Part of that [approach] is about reframing failure, synthesizing new information from disparate sources and draw­ing new conclusions," he says.

Entrepreneurs, like arts and sciences stu­dents, love to look at problems from many different angles and find the unexpected perspective that can provide the insight to solve them.
2. Scale
Build Meaningful Connections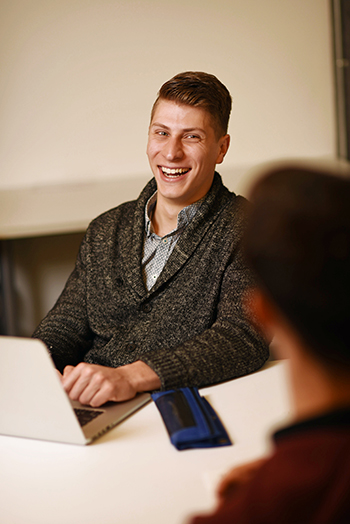 Even after Taylor, an economics and international studies major, returned home, he couldn't stop thinking about the problem. So he did a little research and made a few calculations. Some conservative, back-of-the-napkin math revealed the true scope of the opportunity: some 11 million Chicago-area airport travelers likely hauled home nearly $100 million in foreign currency that would never leave their sock drawer.

Taylor's determination to prevent that money from going to waste became the genesis of Community Currency, a nonprofit organization that collects leftover foreign currency at airports and other locations and transforms it into scholarships for underprivileged children.

As he built the organization, Taylor soon discovered that his biggest hurdles were not the ones he had anticipated — launching a nonprofit organization, for example, or find­ing a company that would pay scrap prices for metal coins. His most important challenge was finding other groups to buy into his vision and help support it.

To do that, Taylor found himself returning again and again to the principles he'd learned in his first-year writing course with Barbara Shwom, a professor of instruction in the College's Cook Family Writing Program. In Shwom's course, How to Become an Expert in Roughly 10 Weeks, Taylor had learned how to deeply research and understand topics — and to convince others of the value of his views. This proved to be a critical skill when Taylor went into meetings and faced sharp and unexpected questions.

Whether he was meeting with the Chicago Department of Aviation (which could help the company get placements in airports) or the Boys & Girls Club (which would get the funds from the work to support scholarships), Taylor sought to help the other party see the value of his vision. He worked to develop clear, concise answers to every question they could throw his way.

Much of the work happened long before he and his team entered the meeting room. "It was about reasoning through the questions people were going to ask — what are the weaknesses and the arguments for something," he says. "It was about understanding that you always have to be flexible and creative about how to solve problems."

Shwom, who has kept in touch with Taylor as Community Currency has grown to a team of 12, is delighted that he has been able to put the ideas from her class to work.

"We did a lot of work on persuasion in the course," she says. "Being persuasive is not about browbeating someone to agree with you. It's about being able to frame what you're doing in a way that makes sense to other peo­ple and gets them on board."

So far, Taylor has been able to generate enormous enthusiasm for his company's mis­sion: they've landed $20,000 in grant funding, partnered with the local chapter of the Boys & Girls Club, connected with multiple on-campus groups, and are in the midst of encouraging discussions with the Department of Aviation at O'Hare International Airport.

Next up, he says, are talks with banks and currency exchanges.
3. Sell
See the Bigger Picture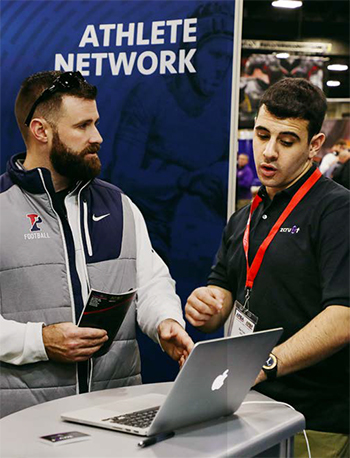 As part of his coursework for Schapiro and Morson's team-taught class, Alternatives: Modeling Choice Across the Disciplines, Weiss had read a Schapiro-authored paper about algorithms designed to predict the likelihood that a given student would enroll at a particular college. Such algorithms are essential, since schools always admit more people than they can accept, knowing that not everyone will actually enroll.

To Weiss, it felt like a thunderclap: why not use those same principles to develop an algorithm that could predict where a student-athlete would commit? Though he didn't have the kind of technology background he suspected he'd need to develop the software, Weiss was pretty sure he could track down people who did. A fraternity brother, Danny Baker '17, did some of the analytic number-crunching, and a pair of College computer science students, Dino Mujkic '17 and Gautier Dagan '17, helped build the platform for the technology. The result was Zcruit, an application that predicts whether a student will commit to a particular school with incred­ible 94 percent accuracy — along with several eager university customers.

Weiss's successful approach demonstrates the value of bringing diverse viewpoints into a group — something that happens often in the interdisciplinary arts and sciences. "Cognitive diversity — making sure that not everyone on your team thinks like you — can help people build stronger teams," Banks says. "You're more likely to challenge assumptions and look at a problem through different lenses. And that's one way to help make sure that the best ideas win."

That 360-degree mindset wasn't just helpful in getting Zcruit off the ground. It also proved invaluable when Weiss was selling the startup to Reigning Champs, a company that helps connect athletes to colleges. The company now works with 23 Division I football programs, including Clemson, USC, Notre Dame and LSU.

Weiss knew he and his team had taken Zcruit as far as it could go on their own. Reigning Champs offered Weiss the chance to work within a larger and more diverse infrastructure, with services for student-athletes, coaches and administrators. That meant Zcruit would fit into Reigning Champs like a puzzle piece, connecting to other services and maximizing its impact. "We built an amazing foundation at Northwestern and now we're trying to transi­tion into the next stage with the new team, to build out a better product and go from there," he says.

If there is a lesson to be drawn from Wein­berg College students and alumni who have built unique and successful businesses, it's that the arts and sciences mindset isn't just worth­while. It's essential.

Boundary-crossing thinking can lead to that "eureka!" moment, as when Weiss saw an admis­sions algorithm and dreamed up a way to apply it to recruiting. Deep research and careful case-building can help bold creators find part­ners who can turn an idea into reality, as Taylor did with Community Currency. And the liberal arts' emphasis on true empathy, not just the bottom line, can help entrepreneurs transform ideas like HotPlate and Care Package into gen­uinely useful and loved products and services.

Perhaps most important, the arts and sci­ences give students the tools to learn whatever they need to tackle next, whether that's read­ing a balance sheet or navigating a legal agree­ment. They encourage students to look at the world in unique ways. And through entrepre­neurship, they can take that distinctive point of view and transform it into a company that can make a difference.

"The liberal arts," says Schapiro, "give you the background to look at all types of difficult problems and find ways to understand and solve them."
The Garage at Northwestern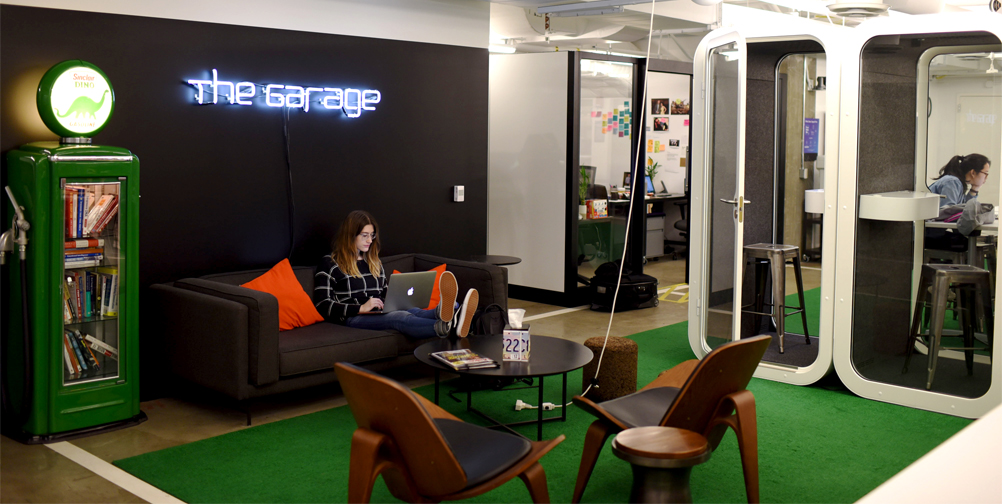 The founders of Apple, Amazon and Disney all famously got their start in garages. These days, Northwestern student entrepreneurs have their own garage to call home. The Garage, which opened in 2015, is an 11,000-square-foot space housed, appropriately enough, in the North Campus Parking Garage. There, students can seek advice from professionals, get involved in pre-accelerator programs, attend talks and events, and collaborate to build the company of their dreams.

The Garage currently houses about 60 student-founded startups per academic quarter. "We welcome students from every school and discipline," says Melissa Kaufman, executive director of The Garage. "And success looks different for everyone. For some, it's really about building the skills of resiliency, networking and leadership. And some will get funding and get acquired."
Resources for Student Entrepreneurs 
Wildfire Pre-Accelerator
This 10-week program helps entrepreneurs learn the basics of product development, pitching and customer connection. At the end of the program, students pitch their ideas in a Shark Tank-type event with expert judges, where a $10,000 prize pool of cash is up for grabs.

Launch
This crash course in entrepreneurship, run by students and supported by The Garage, is designed to help students go from back-of-the-napkin sketches to real products that are ready for crowdfunding or venture capital investments.

Office Hours
Student entrepreneurs can schedule dedicated time with successful entrepreneurs, tax and accounting experts, social media and marketing professionals, and other mentors.

Spaces
In addition to co-working spaces and conference rooms, students can take advantage of the Makerspace, with an augmented reality and virtual reality lab as well as a prototyping lab.

The Garage Residency
Student entrepreneurs can apply to be part of a selective residency program that offers weekly dinners, 24/7 access to The Garage, and a mentor.
Back to top