Paths: Richard Mesirow
Richard Mesirow '59 adds value to his community through the arts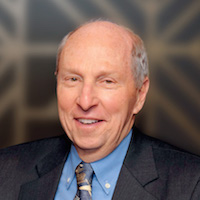 As a general studies student in the 1950s, Richard Mesirow '59 refused to follow a pre-defined academic path. 
Instead, he selected his classes by opting for the best professors he could find. 
He asked classmates, fraternity brothers and alumni to recommend the most engaging and effective teachers at the College. The result was an academic résumé that reflected his unapologetic curiosity: philosophy and political science, literature and art, religion and science. 
"At the time," Mesirow confesses, "I wasn't thinking about a career."
And so when the young graduate joined Chicago-based Mesirow Financial, the financial services firm his father, Norman, founded in 1937, Mesirow struggled at first to see how his academic experience applied to the world of stocks and bonds.
That worry, however, evaporated as Mesirow recognized that doing good was good for business — a realization spurred by an education that had inspired him to think critically about what it means to be truly helpful to others. 
"I do a lot of listening to understand my clients' needs, wishes, motivations and problems, both financial and otherwise," says Mesirow, a self-described "holistic wealth manager." 
Mesirow has applied that thinking on a larger scale as well, working over the past five decades to understand how both he and the firm that bears his name can add more value to their community. 
"The liberal arts education is fundamentally about listening, processing — the good, the bad and the right things to do — and enhancing the world," Mesirow says.
Today, a semi-retired Mesirow advocates for the support of hundreds of local and national organizations that address a wide range of social issues: education, economic development, health care, and an area particularly close to Mesirow's heart: the musical fine arts. 
"There is something special about music that is soothing, motivating and inspiring," he explains.
Three years ago, in an effort to strengthen the arts in Chicago, Mesirow helped spearhead Mesirow Financial Presents!, a series of performances by musicians such as violinist Rachel Barton Pine and the Lincoln Trio from Cedille Records.
All of the proceeds support arts organizations in Chicago, including the Old Town School of Folk Music, the Chicago Opera Theater and the Chicago Children's Choir.
"This has grown into something we never could have envisioned," Mesirow says of the program, which has raised more than $200,000 for those and others institutions since 2013. "We're giving them a different way to engage and grow their donor base so that they can connect more people to their wonderful work. It's a truly beautiful thing."
Music, Mesirow says, "resonates among people and is capable of having a profound impact on the human soul. And that's something we want to spread in powerful, special ways." 
Back to top