Letter from the Dean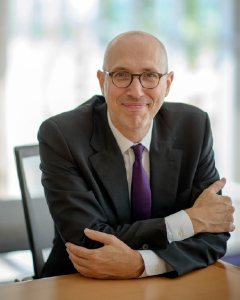 The word "global" has been part of the popular lexicon for my entire life, ever since Marshall McLuhan coined the term "global village" in the 1960s. It evokes the rapid movement of people, things and ideas that are so characteristic of our age. And yet, as our horizons expand across borders and as we move with increasing ease between continents, "global" is often uttered along with the word "local," as in the catchphrase "think globally, act locally." And this in turn has led to the neologism "glocal." It's a bit of an awkward contraction, but it does capture something of the spirit of our age. 
It also suggests a mission. At Northwestern's Weinberg College of Arts and Sciences, we do aim to offer a "glocal" education. The College is a fundamentally global enterprise, in that so many of our disciplines study phenomena from a global perspective. But we also believe strongly in the local benefits of a residential college experience. Thus, we have developed myriad ways for our students to study abroad, but we have also matched these with opportunities for students to engage with communities in Chicago and Evanston. 
Looking ahead, we aim to enhance the study of foreign languages, invest in international and transnational studies, and expand our global connections, often in partnership with the Buffett Institute for Global Studies. (You can learn more about how alumna Roberta Buffett Elliott's $100-million-plus gift is fueling an expansion of global studies at the College in our cover story, which begins on page 18.) Closer to home, we have long combined academic study with practical experience through our Chicago Field Studies program. This enormously successful program allows students to take a course and pursue a related internship, linking the experiences in the classroom with those gained at businesses and organizations throughout Chicago. 
Matching theory and practice is a virtuous cycle, whether our students are studying globally, locally or, as is increasingly common, some combination of the two. This is at the very core of a "glocal" education at Weinberg College.
Adrian Randolph
Dean, Weinberg College of Arts and Sciences
Back to top