Paths: Howard Tullman
Howard Tullman '67 became a force for entrepreneurship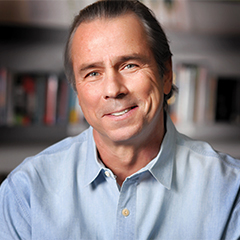 Being the oldest of six has its advantages, especially in a driven and competitive family.
"My father was very entrepreneurial, and my mother encouraged us to do just about anything we felt we could do," says Howard A. Tullman, CEO of the tech startup hub 1871 in Chicago. "That was a huge driver. We were raised with levels of self-confidence that far exceeded our actual abilities."
That early encouragement laid the groundwork for Tullman's remarkable 45-year career in startups, turnarounds, and management of both public and private corporations and schools. And it was reinforced at Northwestern, where Tullman majored in mathematics and economics at Weinberg College and went on to earn a law degree in 1970.
Tullman practiced law for 10 years, retiring in 1980 to launch an online information services company. Moving into the infotech space, he went on to create several very large database businesses that became public companies. Next came music, computer games, media and entertainment startups, including Eager Enterprises, Imagination Pilots, Tunes.com, the Rolling Stone Network and other successful firms. Then Tullman began creating schools, including Experiencia and Tribeca Flashpoint Media Arts Academy, and transforming others, including Kendall College (whose campus he moved from Evanston to Chicago).
"It's hard to pick a favorite child. Almost every one of my businesses was a tremendous learning experience, an exciting ride, and a great success," Tullman says. "I think we created about 7,000 jobs over the years, and we had about a billion dollars' worth of exits."
In 2014, Tullman considered retirement "for about two seconds." Setting that idea aside, he accepted an invitation to lead 1871, whose name evokes the entrepreneurial energy that infused Chicago as the city rebuilt itself after that year's great fire.  
The incubator has proven true to the spirit of its name, nurturing 325 digital technology startups and graduating about 65 companies since its founding in 2012. It offers a host of amenities for young firms, including programming, educational resources and access to mentors and investors.
"This is really about my interest and desire to give back," Tullman says. "It's such a privilege to be able to go to a place every day where you can be enthusiastic about what you're doing and feel like you're accomplishing something that's bigger than yourself."
Tullman has also visited with the development team for The Garage, an incubator space on the Northwestern campus housed in the six-story parking structure near the Henry Crown Sports Pavilion. Modeled after 1871, The Garage is a flexible workplace designed to foster collaboration. Tullman hopes the new space will whet students' taste for the adventure of entrepreneurship, even with all its constant ups and downs.
"When you build a business, it's a journey, but what you take away are the memories of the people that you built the business with," he says. "The all-nighters, the broken pipes and the crazy Hail-Mary passes to try to save the business — all those are memories that last for life. That's exactly how I look back at my experience at Northwestern as well."
Back to top