Paths: What Did You Do with Your Arts and Sciences Degree?
Tracy Carson '04 directs aid to where it is most needed in Africa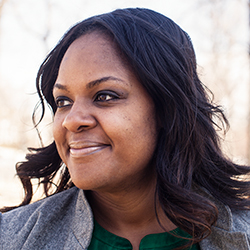 For Tracy Carson, persistence pays.
After receiving a B-minus on a paper in former Northwestern history professor Nancy MacLean's 20th Century American History course, Carson accepted MacLean's challenge to rewrite the paper for a fresh evaluation.
Carson rewrote the paper once, then twice, and finally a total of six times before she finally earned that sought-after A. In the process, the Chicago native learned plenty about herself and the doggedness it takes to achieve desired results.
"For a long time, you turn in papers and get the grades you're accustomed to, but here was someone saying, 'This can be better,'" Carson says. "That experience changed me. I learned persistence, how to take criticism and how to be fearless about seeking improvement."
Those skills serve Carson well today in her position with the U.S. Department of State's Office of U.S. Foreign Assistance Resources. There, Carson and her colleagues in the seven-year-old Foreign Assistance office encounter challenges the U.S. has never before faced regarding the strategic allocation, management and use of foreign aid coordinated by the State Department and the U.S. Agency for International Development (USAID).
"As the upstart, we're in a position of constantly learning how to improve processes, of being humbled, of needing to learn from other people and leveraging their knowledge to improve our efforts," says Carson, who, in addition to graduating from Northwestern with top academic honors, was a member of the University's 2003 National Debate Tournament championship squad.
As the country coordinator for West Africa, the 31-year-old Carson helps develop and justify U.S. foreign assistance budgets for nearly 20 African nations.
"I love that I'm contributing strategic work that's needed, work that has an impact," Carson says.
In particular, Carson enjoys working on Africa, a continent she has visited and that she studied as an African Studies minor at Northwestern. Carson's postgraduate trek included the study of South African labor movements while earning a doctorate from Oxford University — on British Marshall and Fulbright Scholarships, no less — as well as an eye-opening, eight-month stay in Namibia with the President's Emergency Plan for AIDS Relief. There, Carson frequented local clinics and saw the positive impact of U.S. aid in the global fight against HIV/AIDS.
Recognizing that bureaucracy can sometimes slow the best intentions, Carson understands the need to revise plans and redesign arguments with determined research that makes spirited, rigorous cases for the flow of U.S. support to sub-Saharan African nations.
"Persistence is the only way to get through the day sometimes," Carson says. "If you want to see positive change, you have to keep pushing for improvement."
Fortunately for Carson, she learned that lesson long ago.
Back to top