Humanities Without Walls
Scholars from across the Midwest will unite to address issues of global importance.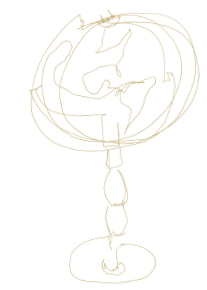 By their very nature, the humanities build bridges between individuals, groups and ideas. They shed light on questions both timeless and pressing, and generate some of the most stimulating discussions students will remember from their college years.
It's fitting, then, that those conversations are about to take place on a much larger stage — one that will unite students and scholars from 15 universities across the Midwest.
The new Humanities Without Walls initiative will generate coursework and projects that will transcend institutional boundaries. Funded by a $3 million gift from the Mellon Foundation, the project will be administered by the Illinois Program for Research in the Humanities at the University of Illinois. At Northwestern, the initiative will be led by the College's Alice Kaplan Institute for the Humanities.
"People outside the walls often don't have a sense of why the humanities are so important," said Wendy Wall, a professor of English and director of the Kaplan Institute. "They expose you to other cultures, encourage you to put your assumptions in brackets and think from the perspective of others. They engage you in the entire range of human experiences."
The Humanities Without Walls initiative will support two core programs. The first will be a series of summer workshops for pre-doctoral humanities students who intend to pursue careers outside academia. The first of these will launch in 2015 and will be hosted by the Chicago Humanities Festival, a longtime partner of the Kaplan Institute.
The second will fund cross-institutional teams of faculty and graduate students as they pursue research that focuses on a grand challenge: "The Global Midwest." The idea, Wall said, is to address issues such as ethnic and racial conflict, immigration or resource issues from a perspective that spans the humanities.
The Kaplan Institute will begin soliciting proposals from the Northwestern community this spring. The goal, Wall said, is to rethink and reveal the Midwest as a key player in issues of global importance.  
"We're very excited to be moving forward with this initiative," Wall said. "This is an unprecedented opportunity for collaborative humanities work for scholars across campus and the Midwest."
Back to top