Weinberg Magazine, Spring/Summer 2014

"A-ha" moments and serendipitous discoveries are par for the course when students embark on a journey into the unknown. Along the way, they often discover a tonic for their thirst: a sense of wonder.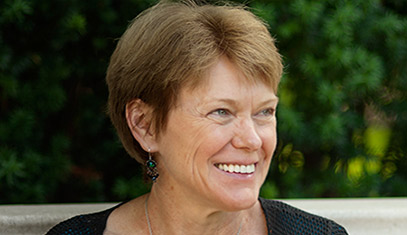 Learning: The Engine of Lifelong Transformation
Dean Sarah Mangelsdorf will become the provost and vice chancellor of the University of Wisconsin-Madison.Read more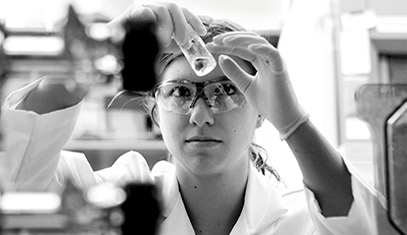 Staying in STEM
Studies show that girls are no less capable than boys when it comes to science, technology, engineering and math. But women who advance in these fields eventually find they are vastly outnumbered. What will it take to close the gap?
Read more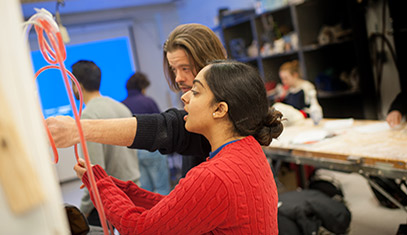 Standard of Measure
Raphael Fleuriet (left) and Roopali Kulkarni '14 work on a piece in Professor Iñigo Manglano-Ovalle's Introduction to Sculpture class.Read more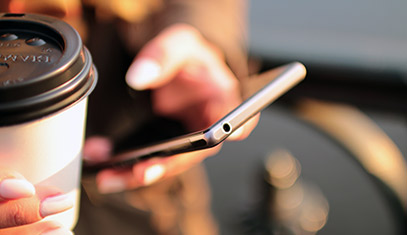 Do Our Smartphones Make Us Smarter?
From the perspective of a teacher, much of what students do in class is learn facts. What does having a smartphone — "Google in your pocket"— change about the way we should be teaching?Read more
Physics and astronomy professor Mayda Velasco investigates the earliest moments of the universe: the first fractions of the second after the Big Bang.
By their very nature, the humanities build bridges between individuals, groups and ideas. They shed light on questions both timeless and pressing, and generate some of the most stimulating discussions students will remember from their college years.
These new MOFs could significantly reduce the pressure within gas tanks and increase their storage capacity, ultimately improving the safety of passenger vehicles and fostering the widespread use of natural gas.
Like many students at Northwestern, Faique Moqeet '16 isn't getting as much sleep as he'd like. But Moqeet isn't just a student. He's also the CEO of Project ARC, a nationally recognized nonprofit organization he founded when he was just a freshman in high school. 
Fractals appear with striking regularity in African art and culture, so much so that Brooklyn-based choreographer Reggie Wilson sought to incorporate them into a dance piece that would depict the migration of African people throughout the world.
SwipeSense was born out of Yuri Malina '11 and Mert Iseri's concern that more than 100,000 people die due to hospital-acquired infections each year.
When Simon Choi and Pat Lueg met as freshmen, they realized they had a lot in common: they both love fitness, team sports and meditation.
The paths that Weinberg College of Arts and Sciences graduates take through life are varied and often unexpected. Was yours? Join the online discussion.
Human beings are natural storytellers, Professor Dan McAdams says. And the most important story each of us tells is the one about our own life.
Weinberg magazine asked a few graduating seniors about their "can't-miss" college experiences. Here's their advice for incoming freshmen.
About the Magazine
Weinberg magazine is published twice a year for alumni, parents and friends of the Judd A. and Marjorie Weinberg College of Arts and Sciences at Northwestern University.
We'd like to hear from you. Please contact us at weinberg-communications@northwestern.edu.
This magazine is also available in a flipbook version.
Back to top