What did you do with your arts and sciences degree?
Jena Friedman '05 brings an anthropologist's eye to her comedy career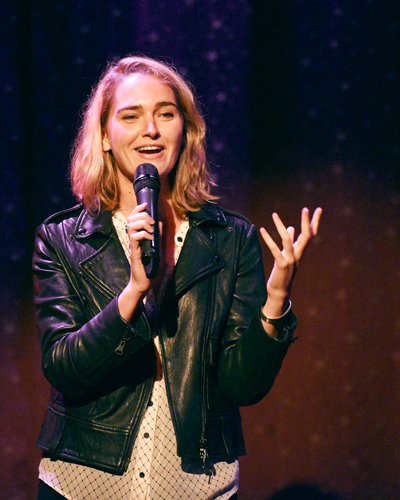 "These are not funny times, I guess … unless you're a Russian oligarch," deadpans Jena Friedman.
It's the night before filming starts for a comedy special that Friedman created and is starring in for the Adult Swim Channel, and Friedman is busy observing the world. It's what the writer/director/comedian did at Northwestern — with no inkling she'd one day be on television — and it's what she still does today.
Friedman has had an exceptionally busy year. In addition to the comedy special, she also performed at Politicon, the huge alternative political convention that features some of the biggest names in politics, acting and media. She's also directing a movie about a woman who falls in love with a serial killer and tries to make the romance work.
"It's a dramedy," declares Friedman, who also wrote the screenplay.
This is Friedman's life post-Northwestern — but not one she originally envisioned. As a student, she never performed on campus. "My sister was the funny one, and I was more weird. I was into witches and Dracula," the Philadelphia native says.
When she first arrived at Northwestern, in fact, Friedman wasn't even sure what to study. Keeping an open mind, she found herself drawn to anthropology. "My adviser, professor Micaela di Leonardo, specialized in gender studies and feminism," Friedman says. "She taught us how to interpret the world not only through the lens of gender, but also race, class and political economy, to see how interconnected everything is.
"I think all college kids hope they have a professor who can spark their curiosity, and she did that for me."
For her senior thesis, Friedman spent a year doing ethnographic research on Chicago's improvisational comedy scene. As part of her study, she enrolled in an improv class — and was soon hooked. "I loved the creative potential of improv, the ability to be a writer and director and actor at the same time,
to get on stage and make something out of nothing," she recalls.
After graduation, Friedman found work as a healthcare consultant in Chicago. But the heavy travel schedule didn't allow time for improv classes, so Friedman turned to standup comedy, performing at venues around the city. Three years later, she moved to New York to advance her comedy career.
She was eventually hired to write for David Letterman, a break that led to a job as a field producer for "The Daily Show." "Being a field producer taught me how to direct and develop my own stuff," says Friedman.
In today's fraught political environment, comedy has a particularly important role to play, Friedman observes. "When you take challenging ideas or uncomfortable subjects and sugarcoat them with comedy, you make them easier for people to swallow or at least talk about," she says. "Hopefully, that's
how we evolve."  
Back to top