What did you do with your arts and sciences degree?
Elise Wetzel '87 created and built one of the nation's fastest-growing food chains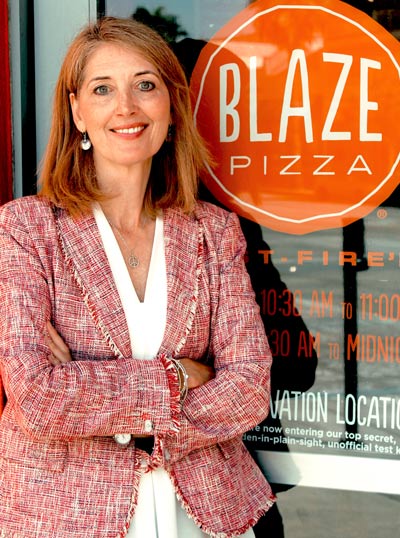 Standing in line with her husband at Chipotle one day in 2011, Elise Wetzel surveyed the fresh ingredients on the menu and the customized approach to each meal.
And then she asked herself: Why couldn't that same approach work for pizza?
Wetzel and her husband, Rick, grabbed a napkin and began sketching out their idea for an entirely new kind of fast-food eatery: a "fast-fire'd" artisanal pizza shop, where customers could choose from among dozens of sauces, cheeses and toppings to build their own pie and sit down to eat it mere minutes later.
"We walked out of Chipotle that day and knew we were starting the restaurant," Wetzel says.
The couple spent the next year drafting the business plan, partnering with award-winning pizzaiolo Brad Kent on the concept. Today, with hundreds of locations nationwide, Blaze Pizza is among the fastest-growing food chains in U.S. history.
The question of how to customize pizza for the masses in 180 seconds flat may have been a new one, but the Wetzels had ample experience — and education — to leverage.
Rick, the Wetzel behind the successful Wetzel's Pretzels chain, already knew his way around high-temperature ovens and the franchise industry. Elise, meanwhile, had focused on product development and consumer behavior at companies such as Nestlé and Unilever since earning her economics degree in 1987 and a Northwestern MBA in 1992.
But fast, artisanal pizza hadn't been done before. "There was no example to follow," she says. "We were it." Increasingly, Wetzel found herself reflecting on the classes that had stretched her thinking as an undergraduate. Philosophy courses had taught her to approach problems from different angles. Literature classes had instilled an appreciation for storytelling and analysis.
"I learned how to think, and how to be curious and analyze," Wetzel says. "That ability to be open-minded and get into others' heads is what allowed us to blaze a new trail here."
The first Blaze opened in August 2012 near the campus of the University of California in Irvine. Two months later, the Wetzels debuted a second restaurant in Pasadena.
In the five years since, the company has added more than 200 restaurants across North America, captured A-list investors such as LeBron James and Maria Shriver, and secured brand-building partnerships with Project(RED), the Bill & Melinda Gates Foundation and the Vans Warped Tour. With annual sales now approaching $300 million, Wetzel believes Blaze will become a $1 billion brand by 2022.
Not bad for an entrepreneurial idea sketched on a restaurant napkin.
"Rick and I saw an opening and jumped on the chance to create a brand from scratch," Wetzel says. "I know our two teenagers have learned a lot watching us build this concept and, lucky for us, they never get tired of eating pizza."  
Back to top