What did you do with your arts and sciences degree?
David Skorton '70 became the chief executive of the Smithsonian Institution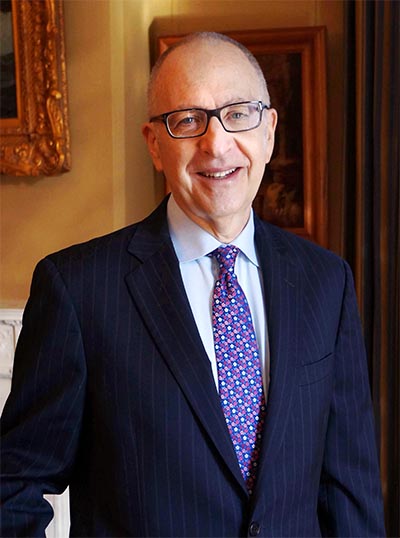 From time to time at the end of the day, David Skorton will pick up his flute and play a tune: jazz, blues or classical. The exercise is at once meditative and energizing, calming and inspiring.
"I think of the arts as highly important to living a joyful experience, as well as a way to communicate emotion," Skorton says.
That's a message Skorton conveys often these days as the 13th Secretary of the Smithsonian Institution, the world's largest museum, education and research complex.
As the Smithsonian's chief executive, Skorton oversees 19 museums, 21 libraries, the National Zoo and a collection of some 156 million items that tell the story of the world and its inhabitants. Skorton's current, sweeping role is the culmination of a life spent advocating for the potential of the arts and humanities to enrich the human experience. It's a welcome but unexpected turn for a psychology major who played saxophone in an undergraduate rhythm-and-blues band and once dreamed of a career as a professional musician.
Skorton's career has taken a number of twists since then, including medical school at Northwestern, a career as a board-certified cardiologist, and then a series of roles in academic medicine and administration, including stints as president of the University of Iowa (where he wove a series of haikus into his installation speech) and Cornell University.
"I never dreamed of this journey," Skorton says. "It's all been a happy set of surprises in my life."
Skorton recalls a "humbling experience" early in that journey: a mind-expanding Weinberg College seminar on philosopher Immanuel Kant and his seminal work, Critique of Pure Reason, that helped to inspire a passion for lifelong learning.
"I realized that there's so much to understand in the world," Skorton says. "One could go through an entire life of rigorous study and would still only know a fraction of what there is to learn."
That realization has been a driving force in Skorton's career, fueling his ongoing quest to bridge the sciences and humanities.
In a sharply divided world, he notes, disciplines such as literature, philosophy, history, art and the social sciences can create common ground. They also foster talents that Skorton believes are critical to solving the world's thorniest problems — skills such as understanding how the public gathers information, how people interact with institutions and how to draw wisdom from historical precedents. To that end, Skorton champions an increase rather than a reduction in federal funding for the arts and humanities, arguing that the discourse they promote is vitally important to the nation's health and future.
"Investing in the humanities increases the chance that more people will be exposed to different ideas," Skorton says. "That can move us forward in important, compelling ways."  
Back to top