Paths: Rebecca Kimitch '98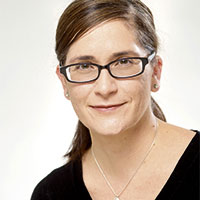 Rebecca Kimitch remembers how excited she felt as a child when Time and Newsweek magazines arrived at her front door.
"I couldn't wait to read them," she remembers. "I thought, 'I want to write this, I want to do this. I want to be a journalist!'"
Today, Kimitch is precisely that: a Pulitzer Prize-winning reporter for the Los Angeles News Group, which includes nine newspapers in southern California. She and her investigative reporting team received journalism's highest honor earlier this year for their inquiry into corruption in a cash-strapped school district. 
And yet, her path to her chosen career was anything but direct. 
Journalism school would have been an obvious choice for the aspiring reporter; it would have provided an entrée into the field and many internship and networking opportunities. But after a college counselor reminded Kimitch that she could learn journalism on the job, she opted to explore all her interests and study the arts and sciences. 
"One Russian lit class and I was in love, so I took as many as I could," she remembers. She decided to major in comparative literature, and her intellectual curiosity blossomed. "At Northwestern, I never felt shy about getting excited by some obscure aspect of anthropology, for example," Kimitch says. "Nor did I feel embarrassed when I knew nothing about a facet of U.S. history that everyone else had learned in high school."
Kimitch's interest in Latin American literature led her to spend two quarters studying in Ecuador. By the time she returned to Northwestern as a senior, she was proficient in Spanish. Her language skills enabled her to spend several years after college working as a reporter in Costa Rica and to later serve as manager of Impacto, a Spanish-language weekly newspaper in Los Angeles. 
At Weinberg, "I learned how to ask better questions and to investigate subjects I knew nothing about, which are both critical reporting skills," Kimitch says. "Those skills didn't just develop thanks to probing professors — my fellow Wildcats embraced my intellectual curiosity as well."
In fact, it was that intellectual curiosity — as much as or perhaps even more than her writing skills — that likely secured Kimitch her first journalism job. "At the interview, the editor noted I hadn't majored in journalism, so he told me to go get the Associated Press stylebook, read up on newswriting, and come back," Kimitch recalls, still amazed. "I did just that, and passed his test and was hired." 
Northwestern, Kimitch concludes, "gave me confidence in who I am. That confidence helps me today, to walk into a room of politicians and challenge their decision making." 
Back to top