Paths: Paul Checchia '89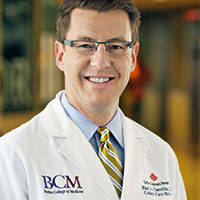 Paul Checcia seemed destined to become a doctor. 
The son of a pediatrician and an adult cardiologist, the Chicago native entered Northwestern in the fall of 1985 with pre-med on his mind. But after a grueling year of science-focused coursework, Checchia made the unexpected decision to major in English after finding inspiration in a first-year literature seminar. 
"As I saw it, undergrad was my time to do something different, so I declared as an English major even though my parents were thoroughly convinced I'd never get into med school," Checchia says. 
Though medicine would remain Checchia's goal, he embraced Shakespeare and Dickens, relishing the opportunity to explore the human condition through works such as David Copperfield.
"I bought into the idea that good physicians are well-rounded people, and an English degree fed into this," Checchia says. "Like Anton Chekhov, who was also a physician, I thought nothing in the human experience should be foreign to me."
After Northwestern, Checchia enrolled at Southern Illinois University for medical school and followed that with a residency at Children's Memorial Hospital in Chicago, returning to the Windy City to join his future wife, Joni McMechan '90. Treating children became his passion.
"You can have an impact on kids that you just can't have on adults," says Checchia, who is currently the medical director of the cardiovascular intensive care unit at Texas Children's Hospital, one of the nation's top pediatric hospitals.
As he works with critical-care patients and interacts with families at fragile, emotionally charged times, Checchia finds he draws increasingly on his background in the humanities, a point he emphasized when he spoke to Northwestern students in October in a program titled "Thinking Beyond the MD."
"If you can't come to the table with empathy and understanding, then you're failing these kids and their families when they need you most," he says. "I use my English degree in medicine now more than my medical degree, because of the communication and empathy factor."
Doubling as a professor of pediatrics-critical care and cardiology at the Baylor College of Medicine, Checchia now hires faculty members, favoring those with well-rounded backgrounds.
"I look for the 'athlete,' not the position player," he says, adding that the medical community increasingly sees the liberal arts degree as an asset. In fact, Checchia now wishes he had taken more classes in the humanities and social sciences when he was at Northwestern. 
"I got my science fix in med school, and I'm happy my mind got to do other things," he says. "Having that solid liberal arts background has helped make me a more complete human being and a better doctor."   
Back to top