Letter From the Dean: An Interdisciplinary Spirit
I am often asked: What is the importance of an arts and sciences education in the 21st century?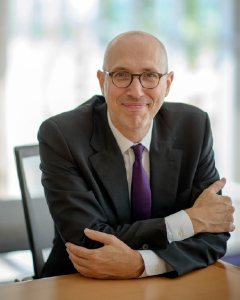 My answer is clear. The multidisciplinary arts and sciences help students develop the courage to try new things, the humility that fires lifelong curiosity, and the persistence to succeed. It is a form of education that values the flexible and adaptive thinking our graduates will need to live purposeful and meaningful lives in the midst of unpredictable change. 
As the new dean of the Weinberg College of Arts and Sciences, I am delighted to join with students, faculty and staff to support and enhance the multi- and interdisciplinary teaching and research that are key to our graduates' success, and to our ability to pose and tackle complex questions.
Recently, Reuters named Northwestern one of the most innovative universities in the world. This corresponds to my own impressions that at this place and at this time, we can accomplish something extraordinary. Why? Northwestern cultivates certain values and practices that are of special importance in today's fast-paced and expansively global environment. These include the interdisciplinary collaborations that are at the heart of Weinberg College.
We see many examples of these partnerships at the College. This work is being done in the same spirit that has driven many of the recent breakthroughs in technology and society. As author Walter Isaacson concludes in The Innovators, his history of the digital revolution: "Creativity is a collaborative process. Innovation comes from teams more often than from the light bulb moments of lone geniuses." Clearly, powerful collaborations demand the inclusion of experts from different fields.
As is evident in this issue of Weinberg, we at the College take interdisciplinary collaboration very seriously. It emerges quite naturally from our nature as a college of arts and sciences, and it sustains Northwestern's innovative spirit. The development of ideas within and across disciplines is at the very core of our identity, and it is precisely what enables students to learn how to learn: by moving from one field of study to another, students develop courage, humility and persistence, a mindset that will ensure that they develop the agility required to meet change and the unknown with confidence.
Cheers,
Adrian Randolph
Dean, Weinberg College of Arts and Sciences
Back to top