Where Did They Go and What Did They Do?
Many students aren't exactly sure what their first post-graduation steps will be. But within a year, the majority of Weinberg College graduates tend to find their way — through jobs, internships, public service and other activities. Here's what the office of Northwestern Career Advancement found when it surveyed the Class of 2013 six months after graduation. 
In which fields are they working? 
Consulting
24%

Business Services, 

Financial Services or 

Investment Banking

21%

Nonprofit or Government

10% 

Science or Research

8% 

Education or Teaching

8% 

Communications, 

Marketing or Media

7% 

Biotechnology, 

Pharmaceutical or 

Healthcare

6% 

Information Technology

5% 

Law
5%
Other
3%
Engineering
2%
Visual or Performing Arts
1%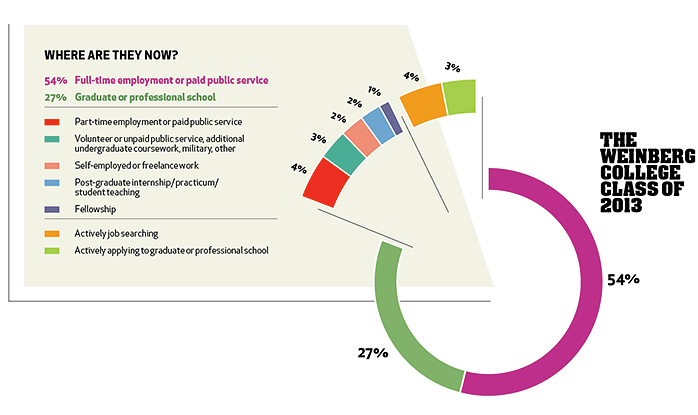 Back to top