Surviving the Quarter Life Crisis
This modern human condition is not uncommon?—?particularly among high-achieving millennials who graduate from college ready to seize the world, only to discover that things don't immediately turn out as planned.
It often starts with a flash of insight. Not the inspirational kind that you read about in the biographies of famous inventors and entrepreneurs, but that distinct moment in time when you suddenly realize that "adulthood" isn't anything like you thought it would be.
Maybe the coveted first job out of college is boring. Maybe the undergraduate relationship you thought would end happily-ever-after just ended, abruptly. Maybe for the first time in your life, you feel old. Yes, old. All the milestone birthdays you anticipated have come and gone and now here you are, sitting on the quarter-edge of life — prestigious degree in hand, best friends dispersed to various cities, and a future that feels foggy at best.
Sound familiar?
Don't panic. This modern human condition known as the "quarter-life crisis" is not uncommon — particularly among high-achieving millennials who graduate from college ready to seize the world and make it a better place, only to discover that things don't immediately turn out as planned.
"I certainly went through it," says Alexandra Levit, who graduated from Weinberg College with a psychology degree in 1998 and went straight to New York "determined to be a VP by the age of 30."
She got the entry-level job she wanted. Check. However, quickly into the whirl and grind she realized that the rulebook for success in the corporate world was vastly different than the one for academia.
So she decided to write her own. 
"My first boss hated me. And I saw people with half my work ethic get promoted ahead of me," explains Levit, who drew on her "quarter-life crisis" to write the bestseller They Don't Teach Corporate in College as well as a Wall Street Journal column about professionals reinventing themselves in the modern workplace. 
Levit says that adjusting to life as an adult in today's society is a challenge for many young people, particularly those who graduated after the 2008 recession.
"Everything is different after college," explains Levit. "How you make friends is different. How you date is different. Add to that the major upheaval of still trying to assess who you are and what your values are."
The "Expectation Hangover"
To some, these quarter-life symptoms might sound like the same coming-of-age dilemmas young adults have been facing for generations. Growing up has never been easy. But for a generation that has been wired since birth with access to global opportunities — and instilled with the belief that "anything is possible"— the path to a rewarding career and satisfying adulthood can include many twists and turns.
Christine Hassler, a 1998 Northwestern graduate and author of several books about the challenges of the 20-something years, says that today's millennials are suffering the quarter-life version of what she calls the "expectation hangover."
"Their parents and society told them, 'Do what you love, find a job that makes you happy, and good stuff will come,' " says Hassler, whose latest book, Expectation Hangover: Overcoming Disappointment in Work, Love and Life, addresses that very issue. "But then they get out into the workforce and realize, 'Oh my gosh, this isn't what I wanted.' "
Hassler, who admits she went through her own quarter-life crisis before deciding to write her first book, says that while today's millennial generation is often portrayed by the media as narcissistic, her research has shown just the opposite.
"They're very globally minded. They want to work for companies that are socially responsible, and they want to make a difference," she says. 
Some, like Lindsay Kuehn '06, pursue a series of seemingly disparate activities, from travel to graduate school to service work, as they narrow in on their goals. Others, like 2008 graduates Jason Sochol and Omri Bojko, start off on one path but then decide to do something completely different.
This period of searching may appear to elders to be an extended adolescence. But some psychologists see it differently: a new sociological trend of "emerging adulthood."
This view re-frames the 20-something years as a distinct life stage. While previous generations saw people marrying young and having their first child before 30, those in the emerging-adulthood camp note that those milestones are happening later for millennials, particularly those with college degrees and the means to explore all of life's possibilities before settling down. 
One Giant Leap of Faith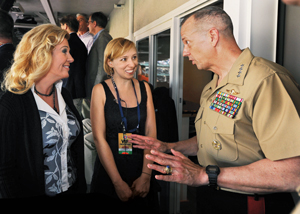 Allison Hart '06
Major: Middle East Language and Civilization
First job after college: Research assistant
Now: Special adviser to NATO 
If there were ever an example of how to transcend the quarter-life quandary, it might be found in Allison Hart's life story. From the day she graduated from high school, Hart's path has been one giant leap of faith and risk-taking that eventually landed her in Brussels, Belgium, where she now serves as a special adviser to NATO. 
"I didn't know where I was going to end up. I didn't know what I wanted. I allowed myself to wait until I figured that out," says Hart, who used her degree in Middle East language and civilization to open doors to research jobs at political think tanks in Washington, D.C. and to a graduate program at Johns Hopkins University, and ultimately to a career working for the U.S. government.
"I think that's part of what gave me the freedom to follow my passion," adds Hart, who graduated from high school early, opened two successful businesses, traveled extensively, and took anthropology classes at a local community college — all before transferring to Northwestern. "The one thing that's the common thread in this quarter-life crisis discussion is the feeling that if you make a decision early on, you have to stick with it because that's what you've decided."
She encourages young people to let go of what doesn't feel right, and to exercise the freedom to change their minds — sometimes more than once.
"I've changed where I live. I've changed the kind of job I had. I always do whatever's interesting," Hart explains.
"You don't have to have it all figured out right now. Don't be afraid to try things. Don't think that you have to succeed the first time out. Yes, it's stressful. Yes, you have bills. Life is happening every day, and it's for you to find it and to live it. But you can only find it if you're willing to explore."

Marrying Fashion and Philanthropy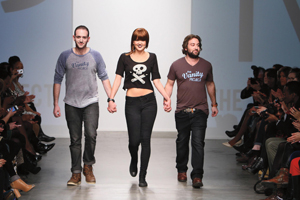 Omri Bojko '08 and Jason Sochol '08
Major: History
First jobs after college: Real estate investment analyst and equity derivatives trader
Now: Entrepreneurs
Just as necessity can be the mother of invention, a crisis can be a catalyst for change. 
For Jason Sochol and Omri Bojko, the quarter-life questioning led to the creation of The Vanity Project — an entrepreneurial endeavor marrying fashion and philanthropy.
Sochol and Bojko graduated with history degrees in 2008, and both landed jobs in the financial sector. Sochol worked in real estate; Bojko for a proprietary trading firm. 
The two felt fortunate to have secured jobs just before the stock market crashed. Then, reality set in. 
"The first eight months of my job were exciting," Bojko says. "It was great. And then you realize that this isn't changing. This is it, every day."
The two had been friends at Northwestern and had often tossed around ideas for new businesses. Then one day in 2011, a conversation at a Bucktown coffeehouse inspired what would become The Vanity Project.
"There are a lot of charities out there. The idea was, what if we were to start putting cool-looking charity logos on T-shirts?" remembers Sochol. "At the same time, we were volunteering for a lot of nonprofits. My mom had just been diagnosed with breast cancer, and we saw an opportunity to try to grow a company around better-branded products for charities and nonprofit organizations."
Three years and a move to Manhattan later, The Vanity Project is now TVP Industries and works with 40 nonprofit and social-impact organizations around the country. The company's goal: to help nonprofits develop strong brands and streamlined services.
Bojko and Sochol advise recent graduates to be fearless about taking chances and switching paths if something doesn't feel right. 
"It's a self-discovery process," Sochol says. "There's no right answer to having a true life."
Open-Ended Stories
Professor Dan McAdams, chair of Weinberg's Department of Psychology, says that early adulthood is a time to develop and articulate the themes that will define the rest of one's life. He believes that today's emerging adults are more mindful than previous generations about how the decisions they make today will shape their future "life stories."
"One thing that is characteristic of emerging adulthood is that many people in their 20s are not adults yet. They're not married. They're not raising children. They're still training and still figuring stuff out," McAdams says. "Because of this, their stories are a little more open-ended than the ones previous generations might have written. They are pursuing goals for sure, but they are not necessarily making commitments for the long term until they get to a point where they are able to do so."
And McAdams thinks that's a positive thing. While his generation got on the job-and-marriage track a lot earlier, the world has changed dramatically since then. Home ownership is far more expensive; many graduates are working to pay back student loans; and organizations no longer hold out the promise of lifetime employment. But even amid the current economic challenges, McAdams believes that young people today — particularly those with a background in the arts and sciences — have more options than any generation before.
Why rush to the altar when you could spend the first part of your career working in impactful roles around the globe? Why not approach opportunities with the same open-mindedness and flexibility that you acquired through your education?
"It seems to me that this generation is better suited than my generation to handle today's changing job market," McAdams says. "They know there's a lot of uncertainty out there, but they are also in no hurry. They are keeping their options open."
That has certainly been true for Jackie Brown '07, who drew on the skills and self-knowledge she acquired as a history major to change the trajectory of her life. 
"Anyone can learn a particular discipline on the job. But a liberal arts degree develops your critical thinking skills and enables you to be very adaptable in the work environment. It allows you to be flexible and not count on just one skill set," explains Brown, who turned a job in commercial real estate into a career as a director of asset management and acquisitions for an ultra-luxury hotel investment fund. "Northwestern prepared me to be outgoing enough to do that and to seize opportunities as they came along." 
Brown says her best advice for young people going through a quarter-life crisis is to do what she did — take a step back and evaluate.
"Take a look at what you're doing," she adds. "Think about what you like and what you don't like. Part of creating a path for yourself is recognizing that you're not really stuck on that path."
While Brown didn't stray far from her original field, her current role extends far beyond the traditional boundaries of real estate. In a recent luxury hotel project in the British Virgin Islands, for example, she worked diplomatically with the government to balance the island's economic goals with her employer's goals for the property — applying her analytical and strategic skills in new ways. 
Her Northwestern education "was the best platform for what I'm doing now, which is something I never would have predicted when I was in college," Brown says.
Keeping an Open Mind
Lindsay Kuehn '06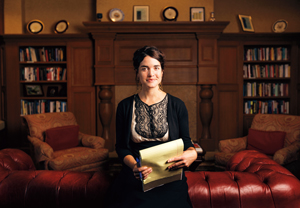 Major: American Studies
First job after college: Volunteer at the Heifer International education ranch
Now: Earning a dual degree in law and public service
Lindsay Kuehn can't say for sure if she's ever experienced a quarter-life crisis. But that's only because she has continually faced the big-picture question of what's coming next. 
"It depends on how you define this 'crisis,'  " explains Kuehn, whose post-Northwestern activities have ranged from a volunteer job at the Heifer International education ranch in Arkansas to a summer role at the Legal Resources Foundation Trust in Kenya. "Leaving Northwestern, I definitely had that moment of not knowing what direction this path would take me."
What she does know is that she likes what she's seen so far. 
"One thing that is inherent in a liberal arts education is that it allows you to recognize and face the complexities in life," says Kuehn, who is now earning a dual degree in law and public service at the University of Arkansas. 
"I would be lying if I said there weren't several times over the last five years when I've wondered, 'Why am I not an electrician?' But had I gone down a path where I was an electrician or engineer, I would have missed out on a lot of opportunities." 
In addition to taking a gap year before college to work at various Americorps projects around the country, Kuehn has also had the opportunity to work for UNICEF in Paris; an urban beekeeping organization in Minneapolis; and the local public defender's office in Little Rock, Ark.
"With a liberal arts degree, the next step isn't always obvious," Kuehn says. "But I remember feeling that when I landed in Arkansas, it felt right. When you think about the challenges we face in this world, none of them are black and white. A liberal arts education helps you understand the complexities of that and how to navigate them."
No Cookie-Cutter Answers
And that is perhaps the best news for graduates facing a "quarter-life crisis." Popular culture, such as the YouTube series Quarterlife and HBO's Girls, may focus on the angst of the post-collegiate years, but in reality those who have studied the arts and sciences are often better off for the struggle. Their 20s become their opportunity to breathe life into the ideas they explored, and to test their relevance to the "real" world.
Associate Professor Kate Baldwin, director of Weinberg College's American Studies Program, says one of the traits she has noticed among her students is a willingness to take risks and pursue dreams.
"I have seen my students graduate with a lack of certainty about where they were going. But as their paths shifted and they followed jobs, they ended up someplace where they wanted to be," she says. "There are no cookie-cutter answers. Life has a lot of gray areas, and I think that's something liberal arts majors are more comfortable with." 
That's what Jackie Grinvalds '10 found when she surveyed 200 young Northwestern alumni for her senior sociology thesis. Grinvalds was curious about their "happiness level"— how satisfied were they with their jobs, relationships, finances and living situations? About half the respondents were Weinberg College alumni.
"I was just trying to figure out my own life, and finding that there wasn't much research on the topic," Grinvalds recalls. 
Back in 2010, her newly graduated friends were describing classic quarter-life symptoms —"jobs not being as much fun as they hoped, how they just didn't have as much time to hang out with friends, and feeling pressured by a lot of the expectations they felt they needed to live up to."
Grinvalds wondered if earning a diploma from a prestigious university such as Northwestern would heighten young alumni's expectations and predispose them to a quarter-life crisis. But when she surveyed those who had been out in the working world for a few years, she found just the opposite: the vast majority — more than 80 percent — of her respondents expressed satisfaction with their lives. 
Grinvalds — who is now attending graduate school and happily pursuing a career in student affairs — was heartened to learn that even though few alumni would describe their lives as movie-perfect, most felt well equipped to navigate the road ahead.
"We were mostly able to find something," says Grinvalds, who applied the same skills she used to write her thesis to land her first job as a business analyst at Sears. "And a lot of people who weren't sure what they wanted to do did something like Teach for America, or they went and studied abroad."
In fact, Grinvalds says she believes "crisis" is too harsh a word for the condition. 
"I think that most of us think we have had a quarter-life crisis, but I don't know that any of us has actually had a real crisis," she adds. "I think we're being dramatic about the things we're questioning, which is figuring out what being an adult really is. I would argue that the questioning is normal in the development process. Sometimes it leads to a new career or a different life than we expected, and that's OK too. With the degree and the friends we've made from college, hopefully we can better navigate the journey."
Back to top