From the Dean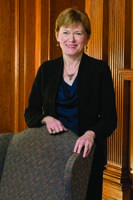 Sarah C. Mangelsdorf
It is a beautiful Sunday in May and I have just come from a lovely luncheon on Deering Meadow for all of our scholarship recipients and the donors who fund their scholarships, many of whom were once recipients themselves. It was a truly inspiring event.
I find myself thinking of our alumni even more than usual as the academic year draws to a close in my fourth year as dean of Weinberg. The freshmen who entered the College in fall 2008, as I did, are graduating this year. Unlike me, they will be moving on from the safe haven of our campus to enter a new chapter of their lives, so I am thrilled that in January, thanks to a gift from Austin Waldron '78, we were able to hire Mary Ann Hocter as our director of Career Mentoring. She has spent the last several months setting up her office, reaching out to students and faculty, and collaborating with existing programs in the College and University to become a resource specifically for arts and sciences students making the transition into the working world. Mary Ann's mission is to connect alumni and students as early as possible for purposes of career education and exploration. I encourage you to read about initiatives she has established for our students.
Our admissions staff was similarly busy this spring, reviewing over 32,000 applications this year, and on April 1 letters went out to students. Overall only 15 percent of the students who applied were admitted. It is great news that prospective students perceive Northwestern so positively, but it is distressing when children of our alumni, faculty, and staff are rejected. This year we rejected as many students as applied two years ago!
In April we hosted Wildcats Days for these admitted students and it was great to meet many of them and their families. It was also really moving to hear current students on our student panels talk about their experiences here. We look forward to welcoming the Class of 2016 in September.
Spring is also a time when we honor the accomplishments of our faculty and students. In April the American Academy of Arts and Sciences announced its newly elected members—among them Hilary Clinton, Mel Brooks, Paul McCartney, and Andre Previn! Nine Northwestern faculty were chosen alongside these famous names (the same number as Stanford), and even more exciting from my perspective is that six of them are from Weinberg. How impressive is the breadth of the areas of scholarship of Weinberg's honorees: Ken Alder from history, James Brown from anthropology, James Druckman from political science, Alice Eagly from psychology, Fraser Stoddart from chemistry, and David van Zanten from art history. Shari Diamond from the School of Law was also honored. Shari has an appointment in psychology at Weinberg and earned her Ph.D. in psychology from Northwestern, so she is both an alum and a colleague.
May brought the 2012 Waa-Mu show—Off the Map—and it was just as fabulous as always. Rather than a revue, this year Waa-Mu was actually a musical with a well-developed plot. The fact that students wrote the script, composed the music, wrote the lyrics, and directed the choreography is truly remarkable. You can catch a peek of it on YouTube.
This spring also brought the groundbreaking for the Bienen School of Music's new building, a spectacular design that will offer concertgoers a view of the Chicago skyline. All you alums who remember the Music Administration Building on Clark Street know how badly our first-rate music school needs new facilities.
Our students continue to do amazing things both on campus and off. Literally dozens have won Fulbright, Gates, and Goldwater fellowships. I look forward to hearing about the astonishing careers and lives our 2012 graduates build in the coming years!
Sarah C. Mangelsdorf
Back to top