In Memoriam: Morris Kaplan
Visionary and Benefactor Morris Kaplan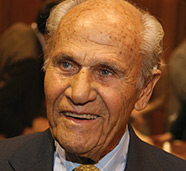 Morris Kaplan
Northwestern University and Weinberg College lost a valued friend and longtime supporter when Morris Kaplan died in June at the age of 98. Kaplan, who graduated from the University in 1935, was former CEO of Sealy Posturepedic Mattress Company and a lifetime member of Northwestern's Board of Trustees.
At the time of his death, Kaplan was remembered by family and friends as a man of many talents and great warmth and charm: "a leader, philanthropist, business man, music lover, problem solver and bird watcher," who entertained his children, grandchildren, and great-grandchildren with fiddling on his violin, bird calls, and renditions of arias and love songs.
At Weinberg, he will be remembered for the innovative institute and the unique scholars' program that his generosity brought to fruition. The Alice Kaplan Institute for the Humanities, named for his wife of 60 years, was established in 1996 to promote the kind of expansive, interdisciplinary discussion and debate that is the hallmark of the best humanities scholarship. The Institute supports an annual fellowship program for Northwestern faculty, humanities courses for undergraduates, invited lectures, research workshops, and a quarterly artist-in-residence program.
Susan Hollis Clayson, the Institute's director, remembered that it was at Kaplan's insistence that the primary beneficiaries be undergraduate students. Faculty fellows at the Institute commit to develop a course that brings their fresh research findings to an undergraduate audience.
"This initiative was thanks to his foresight," said Clayson, who is also a professor of art history and the Bergen Evans Professor in the Humanities. "No other humanities center in the country has such a curriculum."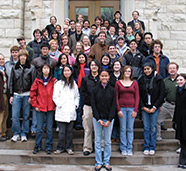 The inaugural class of Kaplan
Humanities Scholars in 2007.
Even more far-reaching in importance is the Kaplan Humanities Scholars Program, endowed by Morris Kaplan and his wife, Dolores Kohl Kaplan, in 2007. The program brings together 50 freshmen to discover the contours of "the good society," as envisioned by thinkers across continents and centuries. Organized as a series of interdisciplinary courses revolving around a common theme, it is team-taught by tenure-line faculty. The intensive program attracts students of varying interests—future scientists and social scientists as well as humanists.
"The program reflects of one of Morry's life credos," said Clayson, "to get students involved in humanities courses at the beginning of their college education and their lives will be changed. And like Morry, who was still in a book club at age 98, they will become lifelong learners."
Said Weinberg Dean Sarah Mangelsdorf, "Morry's vision for invigorating the study of humanities at Northwestern will continue to deepen the undergraduate experience at Northwestern for generations to come."
Back to top