In Memoriam: Jonathan Widom
Internationally Renowned Biologist Jonathan Widom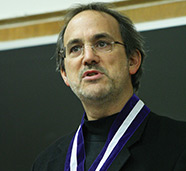 Jonathan Widom
Jonathan Widom was born to be a scientist, coming from a family of researchers and academics. A creative thinker with an unusually broad perspective, he was able to bridge the worlds of the physical sciences and the life sciences in order to explore the central questions of biology. His brilliance as a researcher was matched by his generosity as a teacher and mentor. Although his recent death at the age of 55 leaves a greatly saddened Northwestern community, as well as family, friends, and colleagues all over the world, the importance of his findings ensures him a lasting legacy.
Widom was the William Deering Professor of Molecular Biosciences and Chemistry. He was also the principal investigator of Northwestern's Physical Sciences-Oncology Center, a role for which he was ideally suited. The Center, established by the National Cancer Institute, brings the principles of the physical sciences to bear on the understanding and treatment of cancer. He is best known, with Eran Segal of Israel, for the discovery of a second code in DNA, which explains the placement of the nucleosomes, miniature protein spools around which the DNA loops.
"You can think of nucleosomes as beads on a necklace," said Kelly Mayo, chair of molecular biosciences. "But with DNA molecules, the beads are irregularly positioned. Where they are located has an impact on how easy it is for other proteins to access the DNA and to express that information. It was known that the placement of nucleosomes wasn't random, but it was Jon's work that led to the concept that much of the information about their placement is found within the primary DNA sequence itself."
His work at the Physical Sciences-Oncology Center enabled him to bridge his basic scientific research with its potential applications, exploring the implications of nucleosome positioning in gene regulation and cell differentiation. His research was supported by numerous grants from the National Institutes of Health and was recognized with many prestigious awards, including the Martin E. and Gertrude G. Walder Award for Research Excellence, the Presidential Young Investigator Award, and the Searle Scholars Award.
Widom received his BA in chemistry from Cornell University in 1977 and his doctorate in biochemistry from Stanford University in 1982. He joined the Northwestern faculty in 1991.
He was a sought-after teacher of undergraduates in his earlier years at Northwestern, and, most recently, a rigorous and effective mentor to graduate students and postdoctoral fellows.
Olke Uhlenbeck, professor of molecular biosciences and chemistry, knew Widom for 35 years, as a colleague and a friend.
"Jon was exceptional in the Northwestern tradition of interdisciplinarity and collegiality," said Uhlenbeck. "He was such a polymath, he was able to talk with nearly everyone and make useful suggestions. Although he was intellectually tough, he was personally gentle—always kind and encouraging."
Kelly Mayo, who followed Widom as department chair, said the biologist set a high standard for doing rigorous science, always striving for excellence. "I always thought of him as the 'professors' professor.' He was the true academic who strove to understand the world around him and to convey that excitement and that learning to others."
Donations may be made to endow a lectureship in Widom's name, "The Jonathan Widom Lectures in Molecular Biosciences." Checks should be payable to Northwestern University and mailed to Director of Development, Weinberg College of Arts and Sciences, Northwestern University, 2020 Ridge Ave., Evanston, IL 60208-4308. Please note on the memo line or in a cover message that the gift is in honor of Jonathan Widom. To give online, go to www.giving.northwestern.edu, select "Make a Gift," then under "My Designation" enter "In honor of Jonathan Widom." For further information, call (800) 222-5603.
Back to top