From the Dean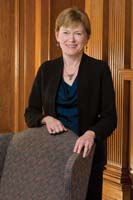 Sarah Mangelsdorf
This fall I began my fourth year as Dean of the Weinberg College of Arts and Sciences. My time here has been challenging and rewarding, and despite the near-daily surprises that arrive in my inbox or at my meeting table, I feel I have developed an overall sense of the rhythm of the seasons. Each fall is always very exhilarating, as we welcome our new freshmen and our new graduate students. Then, in October, we welcome our alumni back to campus for Homecoming weekend. This year, we had a wonderful turnout for Homecoming, and I enjoyed seeing many of you at the Weinberg reception and the all-class pre-game brunch.
One of the highlights of the fall was a fascinating trip to Doha, Qatar to learn about the work Northwestern faculty and staff are doing to contribute to the burgeoning Education City. I traveled with colleagues who represent the arts and sciences disciplines offered in support of the NU-Q programs in journalism and communications. A sampling of courses our faculty have taught include: Anthropology of Gender, Democracy and Democratization; Ethics of Free Speech; Introduction to Middle East Anthropology; Islam and the Shaping of African History; Modern Reform Movements in the Muslim World; Islam in America; and Women as Writers. Several of our peer institutions are also represented there, and the breadth of educational opportunities that are emerging at this campus in the Middle East is very impressive. This is particularly significant for young women, many of whom do not have the option to live and study elsewhere. My colleagues and I all greatly enjoyed our visit to Qatar and were very impressed by the hospitality shown us by our colleagues at our sister campus. We look forward to working with them to continue to develop the arts and sciences curriculum at NU-Q.
Though I have become accustomed to receiving news about the outstanding accomplishments of our faculty and students, it is still always a happy surprise to see what heights many of them reach. We were very pleased to hear that Sarah Smierciak '11 was honored with a Rhodes Scholarship, one of the most prestigious fellowships in the world. Smierciak currently lives in Cairo, Egypt, where she works as an educational consultant for FACE for Children in Need. Rhodes Scholars receive full financial support to pursue a degree or degrees at the University of Oxford in the United Kingdom. Smierciak plans to pursue an M. Phil in development studies in order to attain the expertise to conduct research on development in the Middle East.
In September I had the great pleasure of attending a celebration in honor of Tobin Marks, who received the 2011 Dreyfus Prize in Chemical Sciences. In October, President Barack Obama nominated Professor of Statistics Larry Hedges to the National Board for Education Sciences. If confirmed by the Senate, Hedges will be one of 15 voting members of the Board, which advises the Director on the policies of the Institute of Education Sciences.
In November I got word that Associate Professor of English Vivasvan Soni was to be awarded the MLA's Prize for a "First Book for Mourning Happiness: Narrative and the Politics of Modernity". A few other recent faculty honors include: Professor of Religious Studies Laurie Zoloth's election as Vice President of the American Academy of Religion (which means she will ascend to the Presidency next year), and two historians, Associate Professor Melissa Macauley and Assistant Professor Susan Pearson, earning National Endowment for the Humanities fellowships.
Finally, one of the most surprising and fun moments of the season was our Wildcats' victory over the ninth-ranked Nebraska Cornhuskers on November 5. It was a thrilling game, and wonderful to see the excitement of the Northwestern community about the win. The football season had some other suspenseful moments that I would rather not dwell on, like the loss to Illinois in the last 13 seconds of the game…. But now we are in basketball season! I hope some of you caught our men's basketball team's win over Michigan State (formerly ranked #6), which was amazing! Don't forget to catch our women's lacrosse team this spring. Their season starts in February and we are all hoping for a 7th national championship this year.
Sarah C. Mangelsdorf
Back to top