From the Dean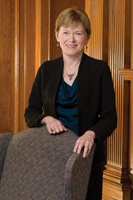 Sarah Mangelsdorf
It's a beautiful time of year here at Northwestern. I enjoy my walks across campus to Norris for faculty meetings, to Pick-Staiger for our Wildcat Days for admitted students, or to Tech to celebrate our award-winning faculty. I welcome any excuse to be outside and catch a glimpse of beautiful Lake Michigan sparkling in the distance. I can tell the students feel the same way, as I watch them stroll around campus in their shorts and flip flops instead of briskly rushing to class all bundled in their down parkas. It seems a bit unfair to our students that just as campus is at its most beautiful, they are preparing to leave for their summer adventures. I consider myself very lucky that I get to stay here!
Weinberg's greatest pride is the caliber of student we attract and this year has proved to be no different. On final count, we had 17,556 applicants for a freshman class of approximately 1,000. The incoming class looks to be our most diverse and impressive ever.
This year, our outstanding Weinberg students garnered 3 of the very prestigious Barry M. Goldwater fellowships, 20 Fulbright Fellowships, a Churchill scholarship and dozens of other national and international fellowships and awards. Then, two weeks ago, I learned that one of our creative writing majors, Veronica Roth, got a book contract with HarperCollins for her first novel.
I was also very pleased to learn that Northwestern's athletic teams had their most impressive performance since the inception of the Academic Progress Rate (APR) program, earning a program-best 10 Public Recognition Awards. So, not only did our football team go to a bowl game and play a great game, they are also among the top 10 percent of Division I football teams in the nation for their academic progress! And our Women's Lacrosse Team, having won the national title five years in a row, narrowly lost the NCAA championship to Maryland in a thrilling game.
Faculty members have been accumulating prestigious awards as well. Among the most notable honors were appointments to the American Academy of Arts and Sciences (Morton Schapiro, our President and member of our Economics Department; David Ferster, Neurobiology and Physiology; and John Hagan, Sociology) and the National Academy of Sciences (Chad Mirkin and Richard Van Duyne, both from Chemistry), as well as fellowships from the Sloan, Packard, Guggenheim and Mellon Foundations. Two of our faculty, Indira Raman from Neurobiology and Physiology, and Michael Smutko from Physics and Astronomy, were also among five faculty members from across the University to win McCormick Awards for Teaching Excellence.
We have continued to add star-quality faculty to the College, despite the fact that many of their visits to Northwestern took place in January and February! To date, we have confirmed 25 new members to our full faculty roster in the past year, coming from places like Yale, Berkeley, Brown, and UCLA. We are also experiencing the bittersweet pride of awarding emeritus status to nine retiring members of our faculty.
Here in the Dean's Office, the seasons have also brought change. In December, our long-time Associate Dean of Facilities and Planning, Marv Lofquist, retired. An intensive search for his replacement yielded our new Associate Dean, Joel Trammell, who joins us from the Indiana University School of Medicine. This spring, Associate Dean of Faculty Affairs and Emeritus Professor of History, Jock McLane, will finally be allowed to retire after 49 years at Northwestern. Professor of Mathematics John Franks will then join us in the fall to take over Jock's position.
This month we will be bidding farewell to the class of 2010, and wishing them well as they head out into an uncertain job market. If you have a chance to hire a fellow Wildcat, please do so. I can guarantee they are terrific!
As always, thanks for all of your support.
Cheers,
Sarah Mangelsdorf
Back to top