From the Dean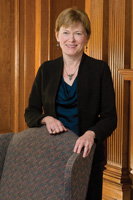 Dean Sarah Mangelsdorf
It is hard to believe as I write this that I am well into my third year here at Weinberg College. Soon we will be marking the end of fall term, the end of 2010, and the end of the first decade of the millennium, and there is much to celebrate at Northwestern. We have had a beautiful fall here in Evanston, with day after day of clear blue skies and amazing foliage. We even had days in the 70s in November!
In October, we were thrilled to learn that one of Weinberg's professors, Dale Mortensen, was awarded the Nobel Prize in Economics along with two collaborators. The three developed a framework that seeks to explain why there are so many people unemployed at the same time as there are a large number of job openings. It was a tremendous honor for all of us to celebrate this prestigious award with someone who has spent his entire professional career at Northwestern studying problems of such contemporary relevance. We were delighted that Professor Mortensen was in Evanston for Homecoming weekend to participate in the parade and to be introduced at the football game. The only disappointment was that the Wildcats, who had been leading against Michigan State for the entire game, lost in the last two minutes. (This disappointment was overcome three weeks later when we came from behind to beat Iowa in the last two minutes of the game.)
It was also a great pleasure in October to celebrate with John Musker '75 and his family when John's achievements were recognized at the Northwestern Alumni Awards Dinner. As many of you know, John is an animation director at Disney who has directed such movies as "The Fox and the Hound", "The Little Mermaid", "Aladdin" and, most recently, "The Princess and the Frog".
Our students continue to impress us with their many passions, talents, and accomplishments. To mention just a few: Northwestern's class of 2013 had the second highest number of National Merit Scholars of any school in the nation, second only to Harvard, and surpassing many larger schools. For the fifth year in a row, Northwestern is among the top ten in the world in Fulbright scholars, sending students around the globe to teach and conduct research. Six Northwestern University doctoral candidates (four of them from Weinberg College) are among the first recipients of a fellowship awarded by the U.S. Department of Energy's new Office of Science Graduate Fellowship Program, which will prepare top students for careers in energy conservation and the environment.
Similarly our faculty, including Nobel Laureate Mortensen, continue to garner every conceivable award. Among their distinguished honors: Assistant Professor of Chemistry Emily Weiss has been awarded both a Packard Fellowship and a Presidential Early Career Award; Emeritus Professor of Classics Dan Garrison received the Mellon Emeritus Fellowship; and Amy Leach won the Whiting Writers Award for her outstanding essay writing. Chemist Chad Mirkin continued to add to his large collection of honors by becoming one of only ten scientists in the world to have ever been elected to all three branches of the National Academies. Mirkin was elected a member of the Institute of Medicine in October, a member of the National Academy of Sciences earlier this year, and a member of the National Academy of Engineering in 2009.
After two years of renovations, we eagerly await the reopening of Harris Hall, the building just east of the arch, where many of you studied history. It will house the new Chabraja Center for Historical Studies and state-of-the-art lecture rooms, faculty offices, study and lounge space for students, and a new terrace. I look forward to having our faculty meetings and College celebrations there in the years to come. I hope to welcome some of you to our Weinberg Homecoming reception in Harris next fall.
It is a great pleasure for me to look back on my first two years at Northwestern and think of how much has been accomplished by our faculty, students, and alumni. I feel so fortunate to have been part of the continued success of Northwestern University, as you have, and I look forward to another great year in Evanston!
Sarah C. Mangelsdorf
Back to top