Charlie Moskos
Sociology's Teaching Legend
In Memoriam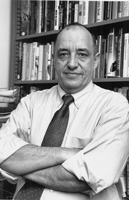 Charles Moskos
When Charles Moskos passed away last spring, the United States armed forces lost one of its most influential advisers, the nation lost its best known military sociologist, and Northwestern University lost one of its most successful and beloved teachers. Professor Moskos died in May at age 74, after battling cancer for several years. During a recent memorial service at Alice Millar Chapel, President Henry S. Bienen announced that alumni and friends have established an endowed professorship in his name to honor Professor Moskos.
Charlie, as he was universally known, was born to immigrant Greek parents, graduated from Princeton and later received a PhD from the University of California at Los Angeles. He discovered a lifelong passion for military sociology in 1954, when he was drafted into the army and served in Germany. Much scholarly work until that time had focused on officers in the military, but his camaraderie with fellow enlisted men deepened his respect for them and prompted his groundbreaking fieldwork on their lives and attitudes. He made his reputation by going into the field like a reporter and asking tough questions on race and gender that no one before him had thought to ask. His 1996 book, All That We Can Be, Black Leadership and Racial Integration the Army Way, written with John Sibley Butler, argues that the army can be a successful model for racial integration in society in general.
He brought his gift for stimulating passionate debate to the classroom as well.
"Teaching at Northwestern was his life—you cannot separate the man from his teaching," says Andrew Moskos of his father's 40 year career in Evanston. "His perfect life included teaching two quarters, traveling to Washington to testify before Congress, and being in every reporter's Rolodex." He also found time to write hundreds of articles on the military, national youth service, and Greek American life, for both scholarly and popular journals.
Charlie Moskos was especially fond of teaching undergraduates. And they were fond of him. His Introduction to Sociology routinely drew 600-plus students into the University's largest auditoriums. There, he would keep the energy level high by engaging in frequent hand-polling and bringing stories fresh from his visits to Iraq, Bosnia, and other of the world's trouble spots. After retiring in 2003, he returned every fall from his home in Santa Monica, California to teach, even in recent years when his health was deteriorating.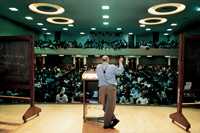 With typical joie de vivre, he told Crosscurrents in a 2004 interview: "To think, you get paid for this fun job! It's the intelligence and the wit of the Northwestern undergraduate that's the most satisfying thing.
"Having an effect on public policy has also been satisfying," he told us at the time. He devised President Clinton's 1993 Don't Ask, Don't Tell policy as a way for gay men and lesbians to serve in the army, which was against the law at the time. He was instrumental in the formation of AmeriCorps, and the 1984 GI Bill for the all-volunteer force. He was also proud of stirring up national debate about reinstituting the draft, which he proposed would include a national service option. "He loved the idea that people of all classes and races would mingle in this shared experience," says Andrew. "He thought the draft made communities stronger and the country stronger."
But his proudest accomplishment was "my great family," he told us—Ilca, a foreign language teacher and his wife of 41 years, and his sons and their families. Peter, a former Baltimore policeman, is assistant professor of law and political science at John Jay College of Criminal Justice in New York. Andrew, Northwestern class of 1990, co-founded Boom Chicago, a successful comedy show based in Amsterdam.
Back to top