Introducing Aldon Morris, Weinberg's Interim Dean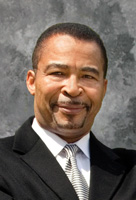 Aldon Morris remembers looking at Dan Linzer's calendar last year and thinking, "How could one individual be in all those meetings?"
In the past few months, Morris has had a chance to find out for himself. In September, Morris was named interim dean of the college, when Linzer moved to Rebecca Crown Center to become provost. Morris served for four years as associate dean for faculty affairs, and had previously chaired the sociology department and directed Asian American Studies during its early years.
"Aldon and I have worked closely together, and I am excited that he will lead the College during the coming year," Linzer said at the time of Morris' appointment.
Morris, the Leon Forrest Professor of Sociology, reflects, "One of the things I've found most interesting is that when I come in on Monday morning, I look up and it's Friday. And I try to figure out how I got to the end of the week so quickly."
Time speeds by not only because he is busy, he says, but because he finds the job so stimulating—hearing about new initiatives in many fields, meeting alumni, and helping students and faculty reach their goals. He speaks with excitement about some of the areas in which the College is building:
A growing concentration in Middle Eastern studies, which will involve the hiring of five or six faculty members across disciplines such as anthropology, political science, ancient art history, and history;
The development of a robust undergraduate curriculum on the study of Africa;
A major advance in nanoscience research with the hiring of chemist Sir Fraser Stoddart and his team. Stoddart is credited with creating a new field of organic chemistry—one in which the mechanical bond is a pre-eminent feature of molecular compounds;
The possible establishment of a population studies center that would be spearheaded by such experts in the field as Alberto Palloni, John Hagan, Larry Hedges, and Charles Manski, all recent additions to the faculty;
Inter-school programs, such as the new certificate program with the Kellogg School of Management;
The possible development of a Latino Studies program;
An international focus in the curriculum, including an invigorated study abroad program.
His overarching goal is making Weinberg College the best college of arts and sciences in the world. "This is not a break from the past," he asserts. "The College has had great leadership, most recently provided by Dan Linzer. But my job is to bring my own energy and insights and perspectives to achieve that goal."
Morris, recipient of the 2006 Chester Himes Award for a Career of Distinguished Scholarship, is well-known for his work on social movements and inequality. His benchmark study, The Origins of the Civil Rights Movement, covered new ground in examining the dynamics within the African American community and their impact on the movement.
"I wanted to set the record straight," he says, of writing the book in the 1980s. "The typical narrative at the time was that the success of the movement had to be attributed to what Northern white liberals did, what the media did, anything other than saying that black people had the organizations and institutions and leadership that made this thing happen the way it happened." So he did the research, conducted the interviews, and finally, made his case. The book received several prizes, among them the American Sociological Association Distinguished Contribution to Scholarship Award.
His passion for social justice developed early. He began life in the Mississippi Delta as the grandson of sharecroppers who were eventually able to buy their own small farm. Jim Crow laws dictated where Southern black children went to school, even what drinking fountains they were allowed to use. When he moved to Chicago to finish grammar school, he found deeply segregated neighborhoods had a similar effect upon the lives of black students. But always, he found mentors—people who encouraged him to attend college. Education was highly valued in the black community, he says. At home, his mother, who worked as a domestic, wrote poetry in her spare time.
"When I started junior college in 1968, the social movements were very much in progress. Not coming from an academic environment, I didn't go the university to become a professor. I went to learn more about how society was structured and how to be effective in helping bring about change. I was one of those persons, then and now, who was convinced that America could be a great nation but I was aware of the contradictions along racial and class lines."
He became "hooked" on studying sociology and social movements at Bradley University and then at State University of New York, Stony Brook, where he received his PhD in 1980. Morris taught at the University of Michigan before joining the Northwestern faculty in 1988. He says Martin Luther King, Jr. was a great inspiration for him as he began his education.
"I never saw him in person, but I sat glued to the television when he spoke. I had experienced as a little kid what he was fighting for. I had never heard anybody speak like that—someone who was bold, someone who was courageous."
The scholarship of sociologist W.E.B. DuBois influenced Morris as strongly as did the politics of King.
"DuBois did some of the major sociological, empirical studies on Americans before anyone else," says Morris. "He was one of the greatest intellectuals that this country has produced, but is only now beginning to be given his rightful place."
This fall, in fact, Morris expected to be submerged in the books and papers of DuBois at the library named in his honor at the University of Massachusetts, Amherst. Morris expects that his new book will underscore the centrality of DuBois' ideas and scholarship. But his scheduled leave of absence will have to wait. People have reminded him, he says, that the archives will still be there next year when his stint in the dean's office may conclude.
He says he tricks himself into remaining productive in his field these days by scheduling an occasional appearance at a conference where he must present a paper or by committing to write book reviews. Still, he is well aware of the opportunities presented by his new role in the College.
"I am growing as a scholar by being in this job," he says. "Learning the trends in so many different disciplines, talking with scholars whom I would not know otherwise—this is an intellectually stretching job."
Back to top