Weinberg's New Development Director
Right at Home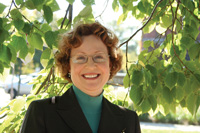 Stephanie Banta remembers riding along Sheridan Road as a child and seeing Northwestern, her dad's alma mater. With its mix of ivy-covered and bright modern buildings
and throngs of students going places, it was what college should look like, she remembers thinking. Her mom would point out the twin statues in front of Patten Gym: "There's Pat and there's Jim." The joke still makes her smile.
In many ways, working at Northwestern is like coming home, she says. In March, Banta was named director of development for Weinberg College. Northwestern is a special place, she has found, and communicating its strengths to alumni is rewarding.
"It's rare to find the kind of excellence Northwestern can claim across so many areas—the sciences, engineering, arts, journalism, performing arts. Also, the breadth and depth of the collaboration that happens on this campus—many universities talk about this but it happens here on a level that's extraordinary.
"You see the excitement in the faces of the faculty and get a sense of how these collaborations make their work more rewarding. And with this support, they seem willing to have their research take them wherever it will lead them."
Like many colleagues, Banta entered the field of development after rich experience in other fields. For Banta, the first step was studying foreign service at Georgetown University. She loved political science, economics, and international relations but decided after four years in the nation's capital that government service wasn't for her. The Deerfield, Illinois native returned to Chicago for a career in banking and an MBA. A decade later, while at home with her young son, she became immersed in fundraising for Rainbow House, a Chicago women's and children's shelter.
"Development work just clicked for me," says Banta. It called on her financial background and was more people-oriented than her former job in international banking operations.
Banta loves learning about the many areas in inquiry that comprise a college of arts and sciences: "One of the wonderful things about being at a university is that people who end up as faculty are the opposite of me. They tend to learn a great deal about a particular area. It's so much fun to work with people who are in love with what they are doing and are pushing the boundaries of their fields."
She also loves the challenge of getting to know alumni and their interests and then matching those interests to areas of need in the College.
"What's fun for me is to meet people and have them get excited about the work that's going on here and then help them find a way in which their support can make a difference. That process works the same way and has the same kinds of satisfaction regardless of the number of zeroes attached to the gift."
Even a small gift can make a big difference for young faculty members who are just starting their research, she says, or students who are given a learning opportunity they wouldn't otherwise have.
"I get my satisfaction in helping people find ways to be supportive in areas that are meaningful to them and to help them see the difference that their gifts are making."
Fundraising priorities are for gifts that directly impact students and faculty, such as funds for undergraduate research opportunities and faculty research and funds to expand teaching capacity in areas of growing student demand. Gifts to the Weinberg College Annual Fund are especially important as they allow us to address the areas of greatest need. For more information, please contact Stephanie Banta at s-banta@northwestern.edu or 847-491-4585.

Back to top