Advanced Features
With advanced features in Bookings, you can 
Prevent Double Booking 
Only the Microsoft Outlook calendar syncs with MS Bookings. Neither iCalendar nor Google Calendar sync with MS Bookings.  You have two options to prevent double booking as a faculty with Bookings' Calendar Syncing: 
Take Outlook Calendar Into Account: Put your availability in Bookings and check the box that says that you want Outlook appointments to be taken into account when students schedule. The outside world does not know about the time block in Bookings during which you want to meet with students. As a result, the outside world may send you an invite that conflict with your intended office hours. You will not be double booked if you accept it, but you will have reduced your office hours and that time will be taken off Bookings as possible student time.   
Block time in Outlook: Create a block of time in Outlook that is busy and hold the office hours timeslot so that someone cannot schedule in that range (or is less likely to try because you appear to be busy).  Then, in Bookings, create your availability but do not check the box that says "take Outlook appointments into account."  When students book appointments, those appointments will remain in your Outlook calendar adjacent to your firm time block. 

 
The benefit of #1 is that you maximize the time you appear available to both students and to the outside world.  However, you might inadvertently meet less often with students or have to attend a meeting in the middle of office hours. 
The benefit of #2 is that you are open to students during your full office hours, even up until the day before, and no one can interject. However, you have to create all the time blocks in Outlook and manage those time blocks in that system, too. 
Short-Term Advising Periods
If you have a type of advising that occurs over a short duration—it only happens for a few weeks in Spring Quarter for example—but it is not available the rest of the year, you can schedule that service as generally not available except during a certain window and during certain hours per week.  See the example below.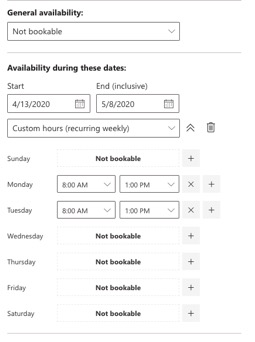 Open Advising or Rotating Advisers
For advising where students cannot select the specific faculty or staff with whom they meet, and a group of staff or advisers all provide the same service at the same times every week, uncheck the box "Allow customers to choose a specific person for the booking." Set the hours for when this advising service occurs each week. This configuration ensures that the personal calendars of the staff or faculty have no bearing on availability.  Conflicts may occur if the staff or faculty are not dedicated to student appointments during these hours.  This configuration is ideal for peer advising—student to student—or a "Writing Center" that has advising hours every week (as an example).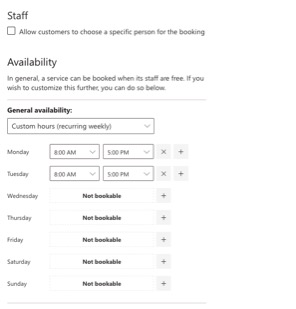 Faculty with Their Own Services
Allowing faculty to have their own services in Bookings will enable them (1) to have their own locations (or Zoom meetings) and also (2) to mark off time during a term when they are not available.  It is important to have the option for time blocks that are not open for appointments—time blocks that do not have to be blocked off in Outlook in a personal calendar.  A faculty member may wish to continue to be available for meetings in Outlook, but not wish to be available for appointments or meetings with students.
To enable this configuration, provide faculty with their own dedicated service and uncheck the box "Allow customers to choose a specific person for the booking."  As there is only one faculty member providing this service, there does not need to be any other choices. For "General Availability" select "Bookable when staff are free," given that most of the time the faculty member will be seeing students according to the general availability they have enabled.  However, below this option, you can "set different availability for a date range" and mark off weeks or days when the faculty would prefer not to see students and mark those time periods in the dropdown as "not bookable."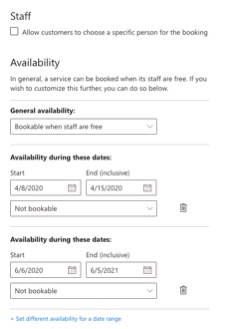 Set Up Conferences
With Bookings you can set up and schedule virtual conferences. You can set up different sessions and receive registrations. Only those registered will see the Zoom link to get into a specific session. 
Set up your conference as its own Bookings, much like a department.
Set up all conference speakers to be "staff" in Bookings (If you have a session with a panel of multiple speakers, have the whole panel be one "staff" member.  Label the staff the name of the panel. The email address does not have to be real.).
Set up each of your sessions as if they are "services" offered by certain "staff" and input their "default location" as the Zoom link needed. (Alternatively, for any hybrid in-person/online sessions, you can provide the Zoom link in the description box if there is a physical location involved that needs to be indicated in the "default location.")
On the service detail page for each session, allow registrations by changing the maximum number of attendees per event to your maximum number of attendees for that session. This example is 40. 

At the bottom of each session's service details page, select "set different availability for a date range" and select the date of the conference start and end (it's inclusive) of that session. Instead of "Bookable when staff are free," select "Custom Hours (recurring weekly)." Then select the hour of that particular session.  This example session happens during 4-5 pm on Tuesday 9/1/2020.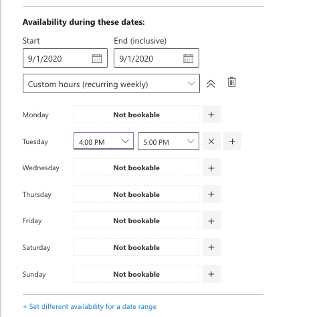 Back to top