Looking to Purchase a New Computer?
Like most electronics, computers won't last forever and there will come a time when you need a replacement. Your local Northwestern IT (NUIT) team is always available to help guide you with the journey of selecting a new computer. This article should inform you of the recommended computer replacement life cycle and where to find the recommended computer models and configurations.
Computer Reimbursement Policy
The computer reimbursement policy provides $1,600 computer reimbursement every four years for eligible faculty and staff.  This supports the industry standard of a four-year replacement cycle.  Please note that eligibility for the $1,600 reimbursement requires that the computer be managed by NUIT. Computer management involves running a standard operating system configuration which includes a computer management agent, antivirus, and other standard Northwestern software. Northwestern IT will provide full support for computers aging up through four years and then best effort support across the fourth and fifth years. Computers that age beyond five years are not supported; however, Northwestern IT makes an effort to recover data in the event of a hard drive failure.
iBuyNU and Recommended PC Models
We recommend that you visit iBuyNU and one of the standard supplier pages corresponding to Dell, Lenovo (CDW-G), or Apple. The Dell premiere page supports a custom, standard configurations profile view for Weinberg College where you'll find the latest recommended models.

The Latitude 7420 (14" LCD) is our standard, business model. 
The 7320 is a slightly smaller form factor, as compared to the 7420, with a 13" LCD vs. a 14" LCD.

Both the Latitude 7320 and 7420 can be purchased as a 2-in-1 if there is a need to combine traditional laptop and tablet capabilities.

The Precision 5550 (15" LCD) is Dell's high-performance line.  This is something you might want if you are regularly compiling code or rendering graphics, for example.
The XPS line, both 13" and 15", is a light-weight, ultraportable laptop that can be configured with and without touch screen capability.  It is also available as a 2-in-1 (laptop/tablet).
The OptiPlex 7080 desktop comes in a variety of form factors.
The standards for Lenovo aren't as well defined within the CDW-G portal; however, the ThinkPad T14 (14" LCD) and T15 (15" LCD) series are a comparable business-class model to the Dell Latitude.  Northwestern IT is happy to assist you with selecting an appropriate Lenovo model and configuration.
Recommended Apple Models
The Northwestern Apple page within iBuyNU continues to support our custom iMac tiles. If you're NOT in the market for a new iMac, you may also select from all available MacBook or Mac-mini models.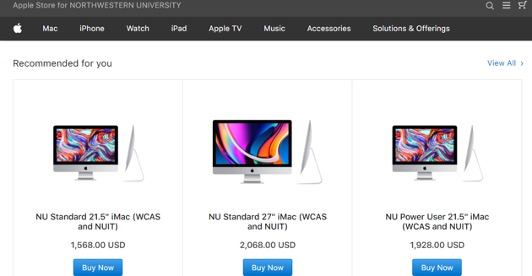 Please note that Apple now offers select MacBook and Mac-mini models with their new M1 chip (CPU).  Although the M1 models are more economical, many industry applications are still not compatible with this new technology.  Northwestern IT has tested the M1 models against a core set of Northwestern, standard business software applications successfully.  As it relates to applications used at Northwestern, compatibility issues have been observed with Panopto Desktop and Box Drive; both applications are functional using their respective web-based clients.   
If you are considering a new Mac computer with an M1 CPU please visit https://isapplesiliconready.com/ (highlighted by 9to5Mac). The site offers a robust list tracking various applications.
Apple also released its new operating system, MacOS 11 (Big Sur) last fall.  The majority of software vendors have now released updated versions which are supported with this operating system.
We encourage you to reach out to Northwestern IT, via consultant@northwestern.edu, if you have any questions or require assistance when ordering a new computer.
Back to top